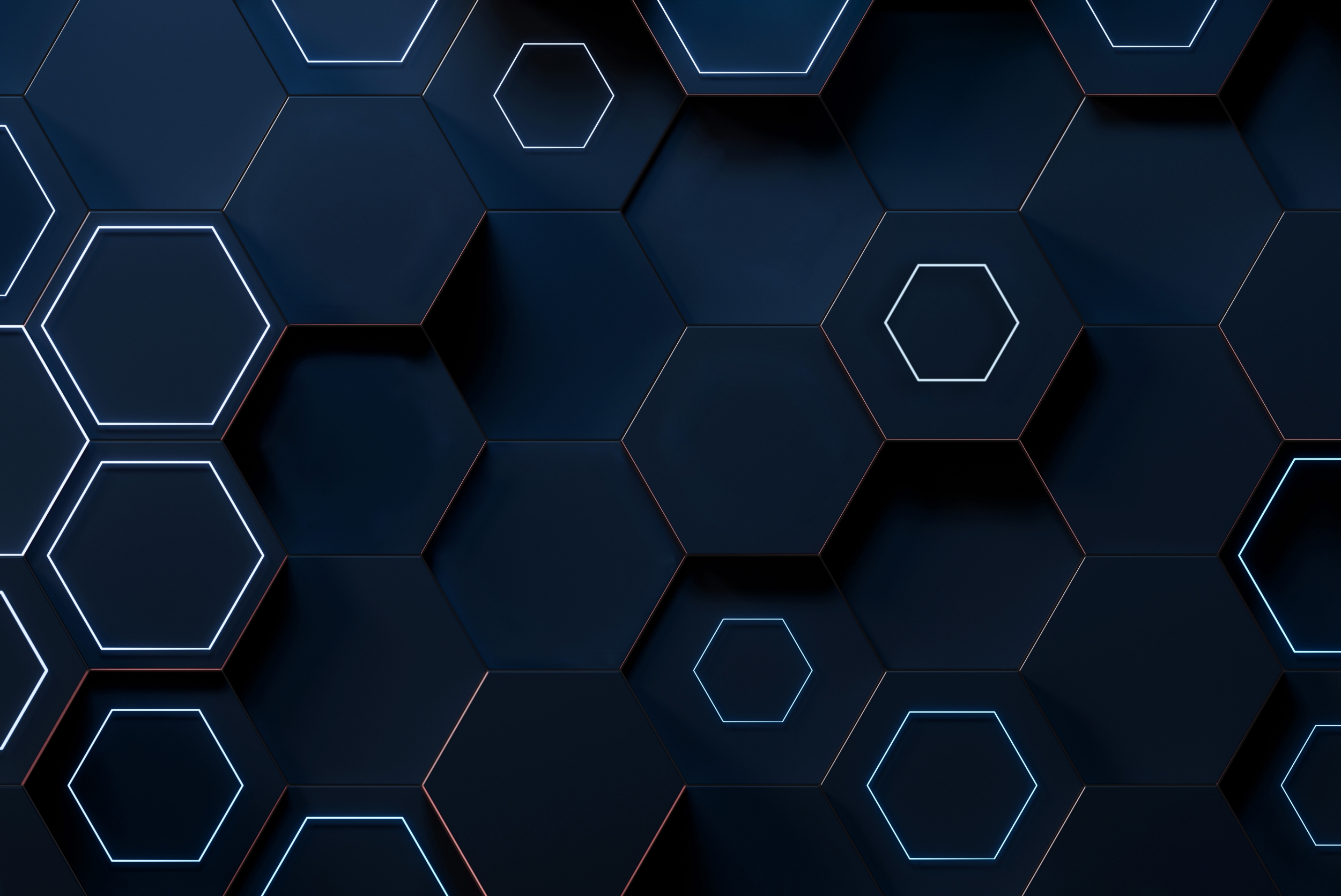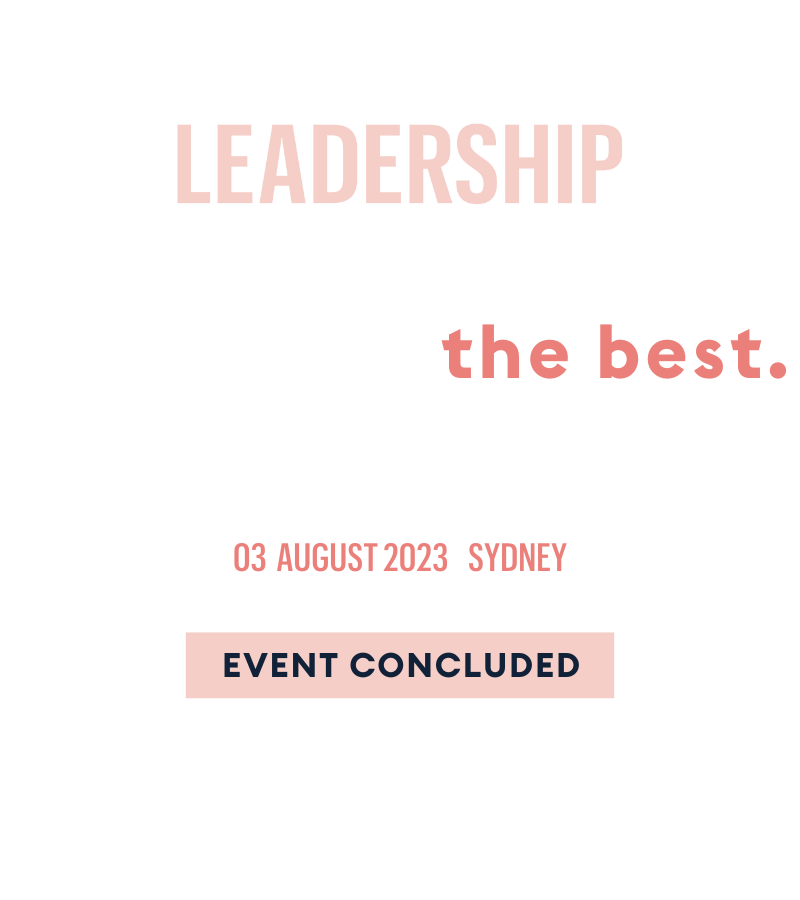 Are you facing critical business challenges that hinder your path to success?
In the ever-evolving landscape of business, leaders like you are constantly juggling multiple pain points that can make or break your organisation.
Attending the Forbes Australia Leadership Forum, presented by Shopify Plus, provides an opportunity to learn from industry experts, exchange ideas with peers, and gain valuable insights that can propel your leadership journey forward.

You'll leave with proven strategies used by market leaders that you can implement immediately.


Do these business issues sound familiar?

Are you struggling to keep your top talent engaged and committed?

The pressure of finding and retaining the right talent has hit new highs with inflation. Workers need – and expect – more from their employers than ever before. Discover how the best in the business address this challenge head on.

Is your team lagging behind on tasks you once delivered seamlessly?

A key issue for leaders is the inverse relationship between investment in tech systems, and the effective use of them by your teams. Harness the power of data, technology and leadership to enable your teams for productivity and performance.

Is your business not experiencing the growth you envisioned?

Learn from leaders who have successfully navigated uncertain economic times and hear the strategies and tactics they are deploying now to capitalise on emerging opportunities and unlock growth.

Struggling to maintain a productive work/life balance?

Master the traits of effective leaders and learn to empower your teams' success, while nurturing your own development at the same time. A strong leadership practice will give you time back to spend 'on' the business, not 'in' the business.
Topics
Learn the traits you need and how to develop your unique leadership style, with Anytime Fitness.
Jacinta McDonell talks of her journey scaling US brand Anytime Fitness to 425 clubs in Australia, her exit, and the role resilience and self-awareness played in defining her leadership style. Understand the essential traits and habits of the world's most effective leaders and Jacinta will share practical steps to help you master them and define your own style.

How to create a values-driven culture that attracts and retains top talent, with Canva.
Jennie Rogerson is the Global Head of People at Canva – a place where everyone can realise their personal goals within their dream role. This session will focus on values and purpose, including creating a participatory culture-driven organisation, hiring practices and how to use impact goals to attract and retain the best talent.

Navigating transformation, agility, and the future of work, with Atlassian.
In this no-BS session, Dom Price, Work Futurist at Atlassian, will equip attendees with the tools to be transformational leaders. Informed by years of working with leaders across the world to unleash the potential of their teams, Dom will provide insights and theory alongside practical exercises that will demonstrate: How to role model change to your teams, why team health is an essential investment in building an organisation with agility and how to assess it, and how to find your focus to have the most effective impact in your organisation.
Unpack a new pillar for success, with The Ideas Business & ThinkAhead Consulting.
The world has undergone an irrevocable transformation. The "new normal" is not just hybrid work or a better work/life balance. It demands a fundamental shift in mindset and behaviours. In this interactive workshop, you'll learn how to successfully navigate ambiguity, unpredictability and rapid change via a new model of creative leadership.

Lessons in leadership, purpose and potential, with former All Black player, Dan Carter.
You might think success at the highest level insulates you from pressure and doubt. But nothing could be further from the truth. Sporting legend Dan Carter distills his two decades at the frontiers of high-performance into his 'perfect ten' lessons, including: Why great leaders are made, not born, and why they must constantly evolve; Why embracing your past is important; Why empowering others leads to the best decisions; Why confidence and self-belief are nothing without humility and a beginner's mindset.

How do you get an ecommerce brand to #1 in your category? With Pet Circle.
Mike Frizell, CEO and Founder of Pet Circle, shares how Technical Leadership underpins the success of his brand. He covers using data and technology to lead, the value of first principle thinking, challenging the status quo and building or inventing solutions for customer problems. Pet Circle is the leading online retailer in the category and this session provides useful insights into the role this style leadership plays in delivering a business that is uniquely valuable to customers.

Leading with empathy and efficiency, with Shopify and Brand Collective.
Explore insights and examples of how to manage decentralised teams through times of change. Join Shopify's Director of Technology Services James Johnson and Anna Samkova, Brand Collective's Group General Manager Digital & Marketing, for a conversation about how leading with empathy can help drive operational efficiency as well as a better employee and customer experience.
Every session includes a Q&A with the speakers. Start preparing your questions now!

Who should attend?
Emerging Leaders
Aspiring C-Suite
HR, People & Culture Leaders
Established Business Owners and Founders
Event Agenda
7:30 AM
Registration Opens
8:00 AM –
12:30 PM
Forum open and welcome remarks
Felicity McVay – Event Host

Session 1 – Values-led leadership
Fireside Chat and Q&A with Jennie Rogerson, Global Head of People – Canva

Session 2 – The Leaders' Toolkit – identifying your unique leadership style
Keynote presentation and Q&A with Jacinta McDonnell, Founder Anytime Fitness

Morning Tea

Session 3 – Creative Leadership
Workshop with Wade Kingsley, The Ideas Business & Ron Ferdinands, ThinkAhead
12:30 PM –
1:45 PM
Gourmet Networking Lunch
1:45 PM –
5:45 PM
Session 4 – Technical Leadership
Keynote presentation and Q&A with Mike Frizell, Founder & CEO, Pet Circle

Session 5 – Transformational Leadership
Keynote presentation and Q&A with Dom Price, Work Futurist, Atlassian

Session 6 – Leading with Empathy and Efficiency
Keynote presentation and Q&A with James Johnson, Director of Technology, Shopify and Anna Samkova, General Manager Digital & Marketing, Brand Collective Group.

Session 7 – The Art of Winning – Lessons in Leadership, Purpose & Potential
Keynote presentation and Q&A with Dan Carter, former All Black

Event concludes
5:45 PM – 7:15 PM
Post event networking function
Speakers and session times are subject to change

Final release pricing ends in

Final chance to save
3 August 2023, 8:00am - 5:45pm
InterContinental Hotel, Double Bay, Sydney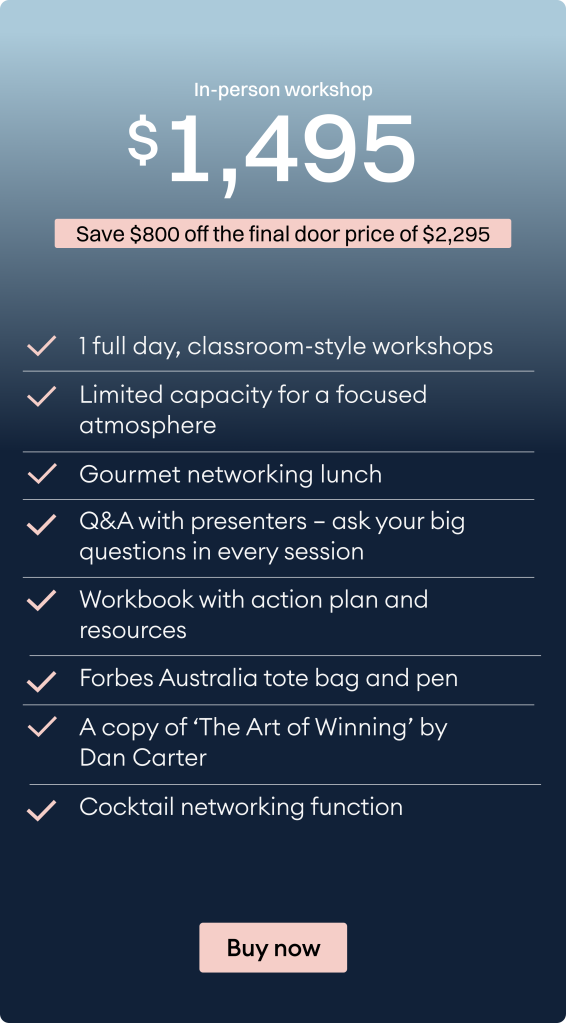 ---
Corporate packages

Email us at events@forbes.com.au to find out about our corporate packages.
"Our speakers for the Forbes Australia Leadership Forum have built some of the most significant companies in Australia. At the Forum, they will share how they did it and what they are doing in 2023 and beyond."

Sarah O'Carroll, Editor-in-Chief, Forbes Australia
Expert Speakers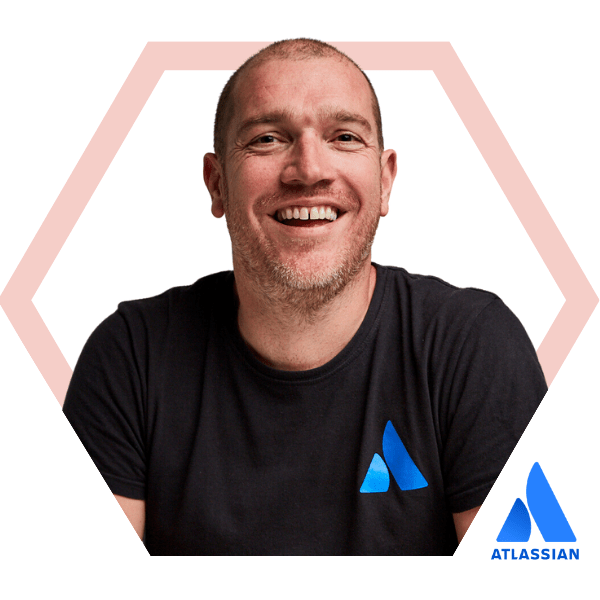 Dom Price
Dom is Atlassian' in house "Team Doctor" helping them scale by being ruthlessly efficient and effective. Spending over half his time helping customers navigate transformation, agility, and the future of work. Dom helped pioneer the Atlassian Team Playbook and has a deep passion for understanding teamwork and the changes we need to make today to build thriving businesses.
*Previously Amy Glancey from Atlassian however due to scheduling conflict, she is no longer able to attend.
Dan Carter
Dan is recognised as one of the world's greatest rugby players. Since his retirement, Dan has immersed himself in charity work and inspiring the next generation of leaders. In 2021 he was invited to become the first ever Leader in Practice at the Oxford Foundry, the entrepreneurship institute founded by the Apple CEO Tim Cook. He is also developing a new book titled The Art of Winning: Lessons in Leadership, Purpose and Potential.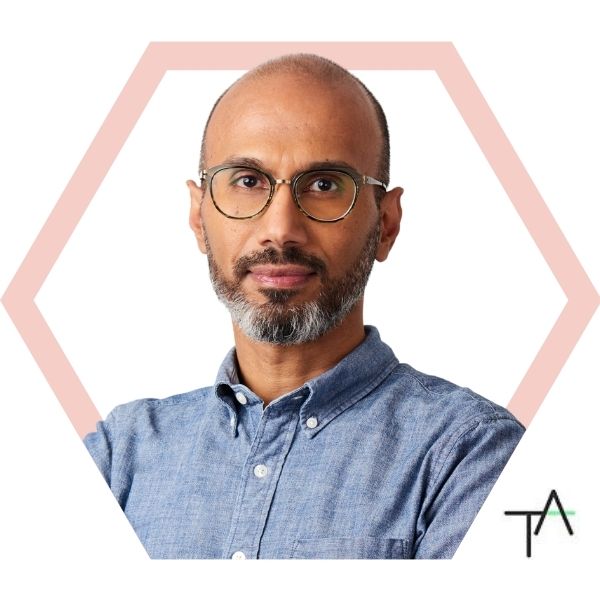 Ron Ferdinands
Ron is a creative thinker with nearly 20 years' experience in strategy, commercial management, and the law. He's the Founder of ThinkAhead Consulting, an independent brand and strategy consultancy. Previously in his senior strategy roles at McCann, Futurebrand and Vizeum, Ron helped clients like BMW, ME Bank, the AFL, AGL, Federation Square, RACV, the University of Melbourne and Tourism Tasmania with their brand and strategy.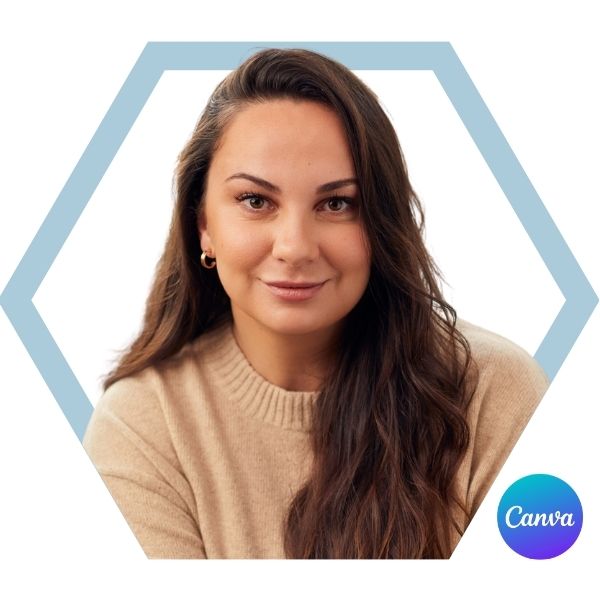 Jennie Rogerson
Jennie joined Canva in 2019 as the first person in Leadership Operations. Similar to a Chief of Staff role, she wore many hats from strategic partner, cat herder, and dot connector, to culture driver. Today, Jennie leads the People Group at Canva where she oversees a global team of 320 people who come together to dream up and create Canva's unique team experience; from recruitment to alumni and everything in between.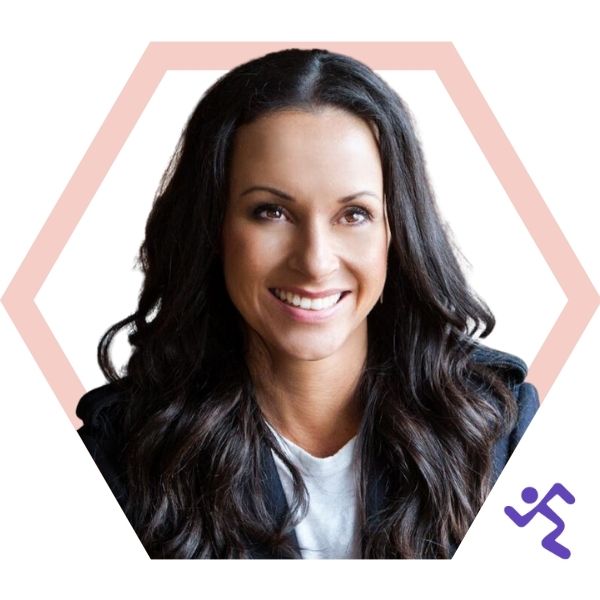 Jacinta McDonell
Jacinta launched the US franchise Anytime Fitness into the Australian market in 2008. Anytime Fitness is the largest fitness franchise brand with over 500 locations nationally. An entrepreneur, Advisor, Speaker, Board member and a mother of three. Jacinta sits on the National Board of The Hunger Project, and continues to share her journey on how we reinvent the way we view leadership and the way we can view purpose and leadership in our own lives.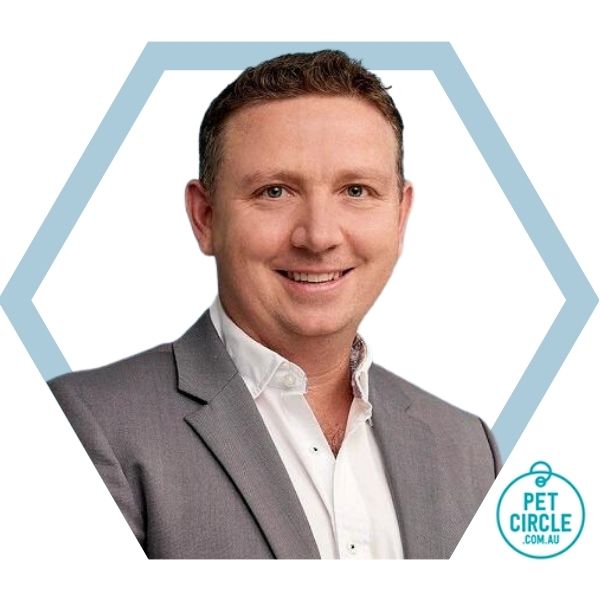 Mike Frizell
Mike Frizell is the Founder and CEO of Pet Circle, the largest online pet company in Australia. Since 2011, Pet Circle has delivered over 10 million pet products to pet families across the country and the company now has over 700 team members. He spent his early career working across a diverse range of companies in the management consulting and Investment banking industries.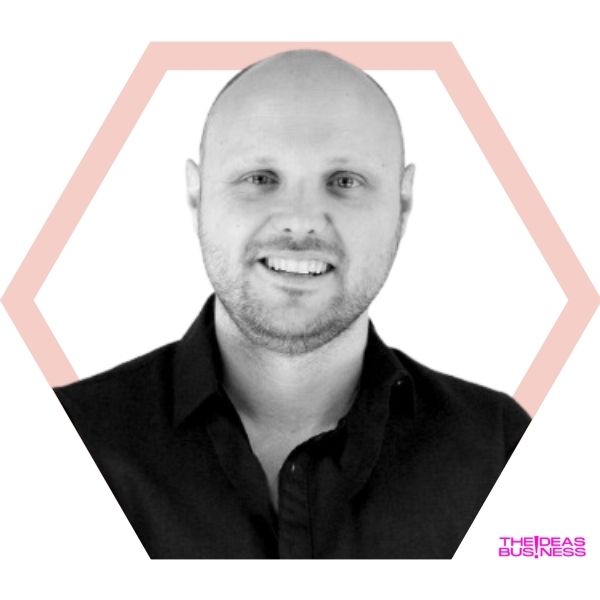 Wade Kingsley
Wade works with companies around the world to help innovate their idea generation capabilities so they can accelerate growth. He has over 25 years experience in leadership roles across media, marketing and sales, before starting his own company, The Ideas Business, recognised by the AFR as one of Australia's fastest growing start ups in 2021. He is the Australian Ambassador for World Creativity and Innovation Week, officially recognised by the United Nations to advance their Sustainable Development Goals.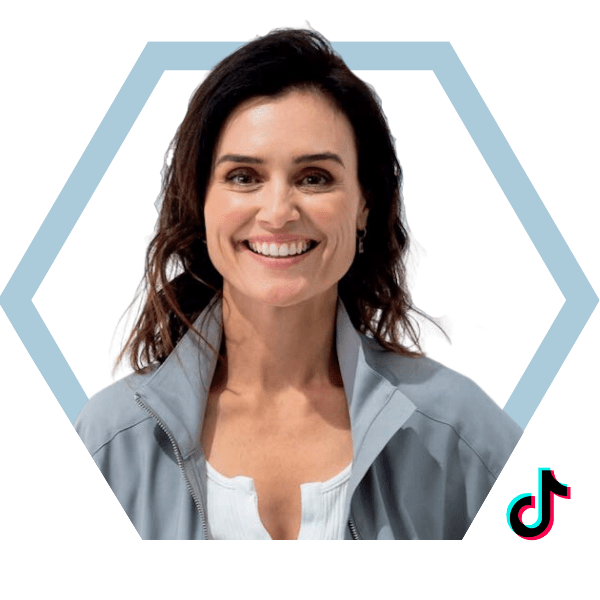 Felicity McVay
Felicity is regarded as a pioneer in the field of social video and the creator ecosystem, having joined YouTube in Australia at inception, a business she later led for 5+ years, along with Google Play Movies & TV in APAC. Most recently she was Global Head of Entertainment at TikTok where she was among the most senior executives at TikTok worldwide, responsible for developing partnerships, content strategy and programs.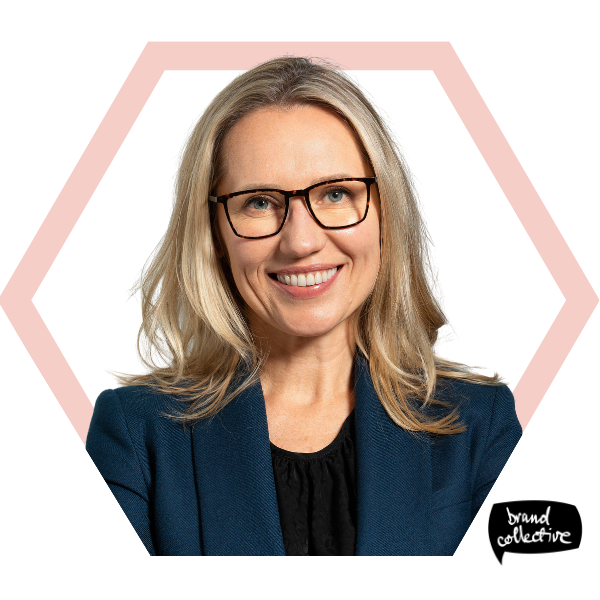 Anna Samkova
Anna is the GM for Digital and Loyalty at Brand Collective Group, Australia's leading fashion apparel and footwear company. With over 20 years of experience, she is a multi-award-winning digital leader known for her expertise in driving digital strategies and creating exceptional customer experiences. With a proven track record of success and a commitment to innovation, Anna continues to lead the digital transformation of the Brand Collective Group, positioning the company as a leader in the fashion industry.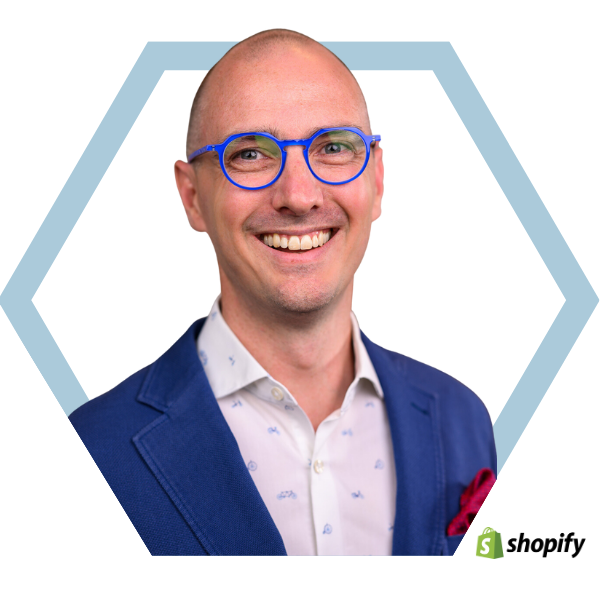 James Johnson
James is Head of Technical Services & Strategic Accounts at Shopify. With 20 years global retail and commerce experience as a practitioner (Michael Hill, Colorado Group and Virgin), a consultant (EY) and technologist (Demandware, Salesforce and Shopify), he understands the challenges that retailers face and helps retailers meet their customer's needs by sharing insights, experiences, best practices and stories.

Register your interest to speak with a consultant.
For information on group discounts and how the forums can benefit you or your team, enquire below and a consultant will contact you.

InterContinental, Double Bay, Sydney
33 Cross St, Double Bay NSW 2028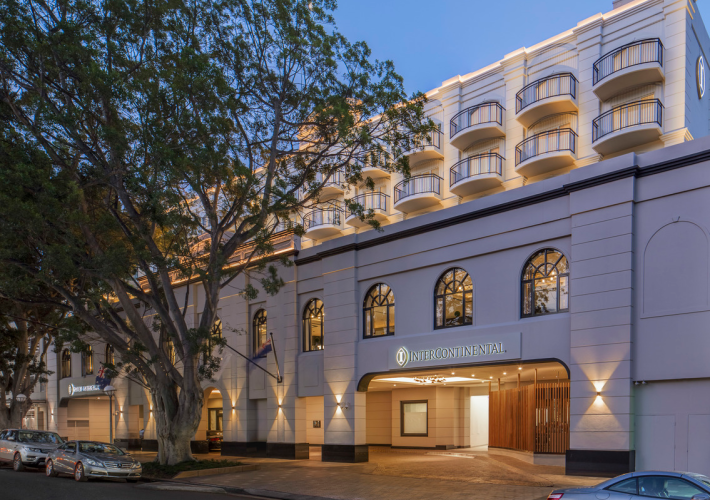 ---
Accommodation
We are pleased to present a discounted room rate of $360 per night for a Standard King Room at the InterContinental Double Bay, for any interstate travellers or guests who may wish to stay overnight at the venue.
View more details and book your discounted room rate directly with InterContinental Double Bay at reservations.doublebay@ihg.com.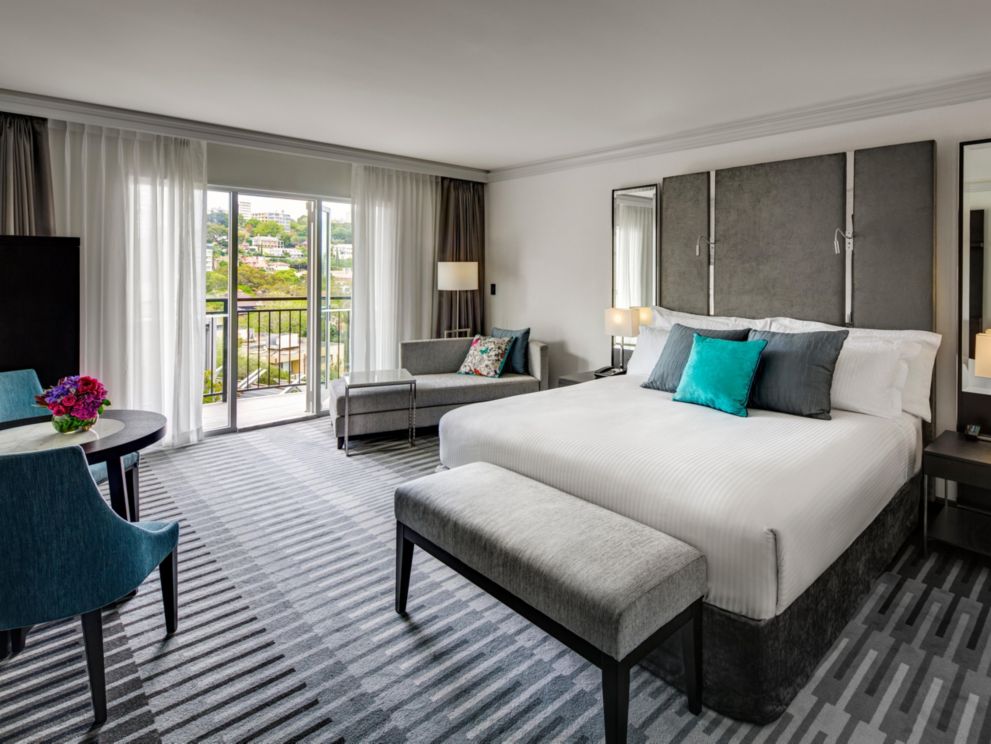 Presenting partner


Event Terms and Conditions
Click here for the Terms and Conditions for the Forbes Australia Leadership Forum.