Magazine Back Issues
Order past copies of Forbes Australia magazine. From the iconic Billionaires List to immersive features, Forbes is the benchmark in premium business journalism, published bi-monthly.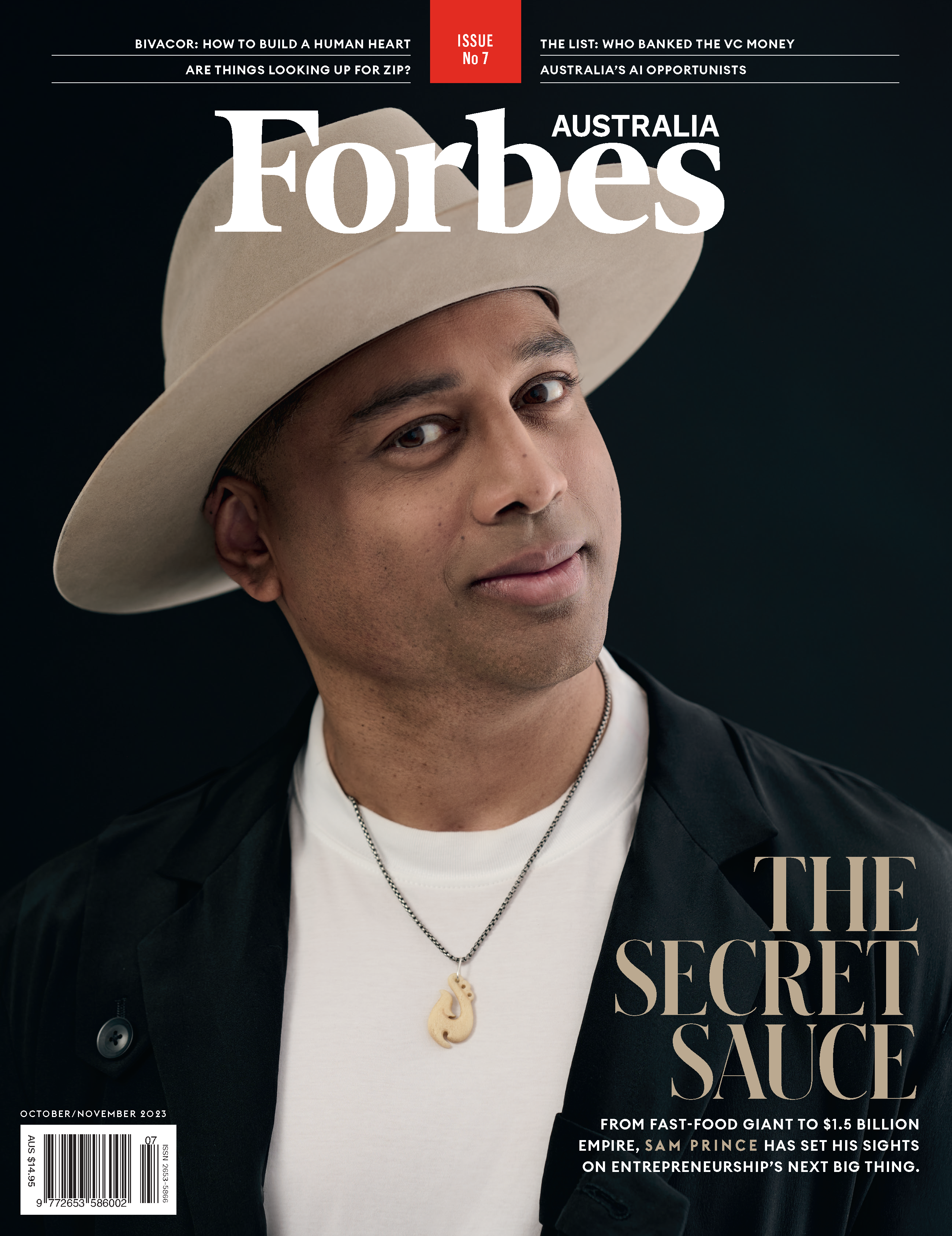 Issue 7
Oct/Nov Issue
9 October 2023
Zambrero founder and this issue's cover story, Sam Prince, has amassed a $1.57 billion fortune through his many businesses. Prince has strongly held views on entrepreneurship, contradicting the conventional thinking that entrepreneurs are born, not made. The interview delves into Prince's Entrepreneur Generator which at time of publishing had four apprentices starting their journey. Also, in this issue: the world's first permanent artificial heart; three companies benefiting from AI's meteoric rise, and more.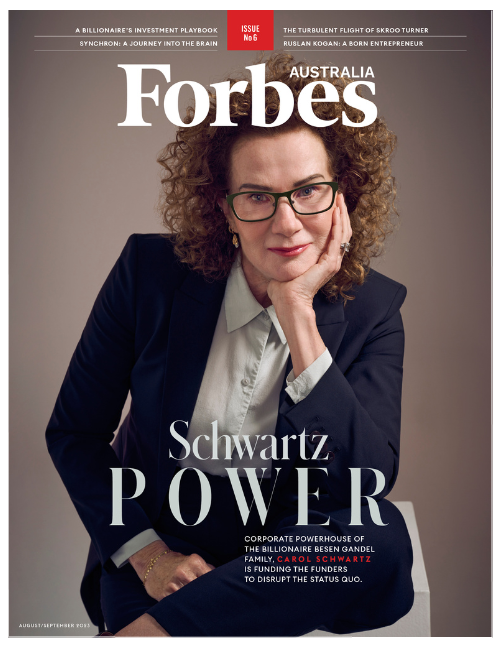 Issue 6
Aug/Sept Issue
21 August 2023
In our cover story, Carol Schwartz, one of Australia's most influential investors, is pouring millions of dollars into women-led start-ups. More recently, her focus has shifted to investing in female venture capitalists – a move she hopes will close the gap on funding for women-led businesses. We also speak with Skroo Turner, Founder and CEO of Flight Centre, on the company's post-pandemic recovery strategy. We hear from Amanda Healy, CEO of Warrikal, an indigineous woman looking at ways to bridge the generational wealth gap. We travel to the land-locked Himalayan kingdom of Bhutan – a remote, exotic destination with a rich history. Plus many more regular columns including Where I'm Putting the Money.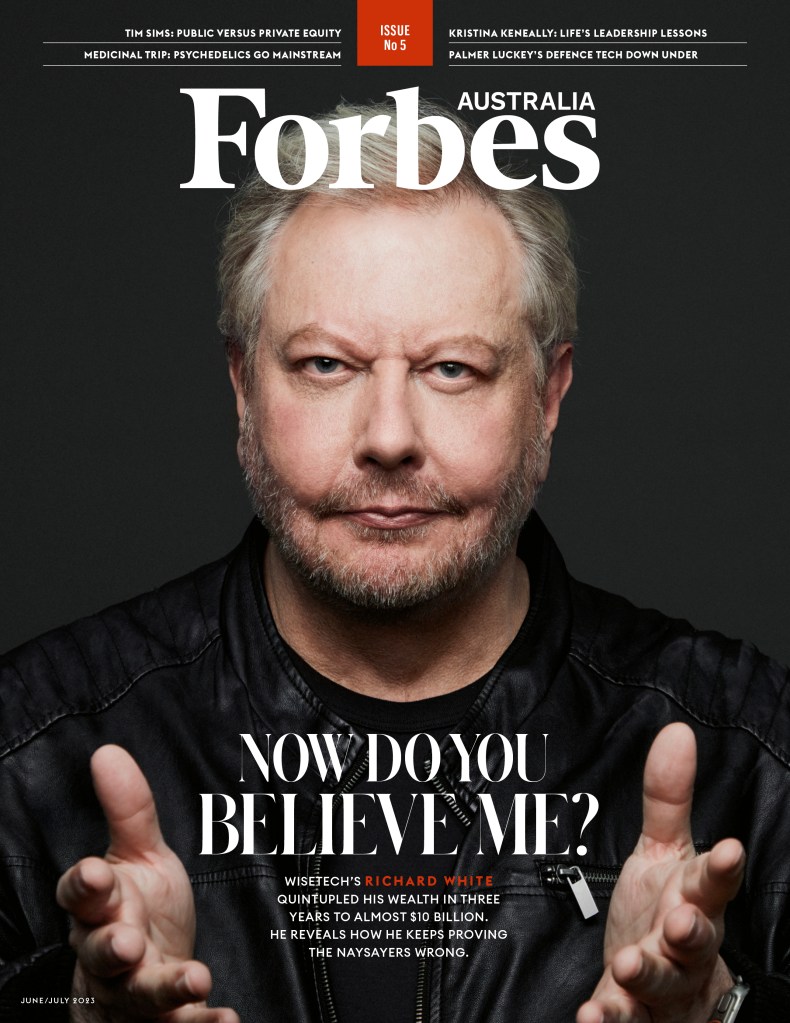 Issue 5
June/July Issue
19 June 2023
CEO of WiseTech Global Richard White, CEO of ReadyTech Marc Washbourne, former NSW Premier and Australian Senator Kristina Keneally, Co-Founder and Managing Director of Pacific Equity Partners Tim Sims, Linktree Co-Founders Nick Humphreys and brothers Alex and Anthony Zaccaria, supermodel-turned-entrepreneur Miranda Kerr and New Zealand opera singer Dame Kiri Te Kanawa are among the highlights of the fifth issue of Forbes Australia. Leading the issue is founder and CEO of WiseTech Global Richard White. White is devouring the world of freight software with a personal fortune that has more than doubled in the past 12 months to around $9.7 billion. He talks to Forbes Australia about how he went from refrigeration mechanic to Australia's seventh richest person.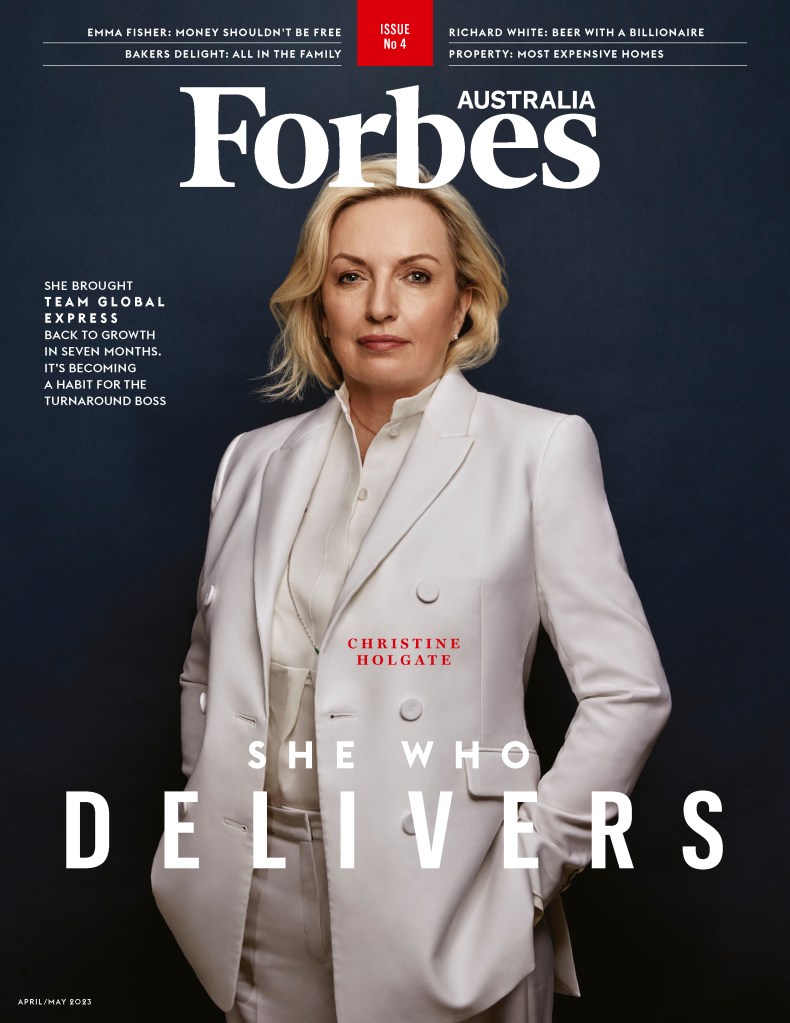 Issue 4
April/May Issue
20 April 2023
Leading this issue is former Australia Post CEO and now CEO of logistics giant Team Global Express (TGE), Christine Holgate. She speaks candidly to Forbes Australia about her time at Australia Post, proving the sceptics wrong, her compelling leadership style and how her trademark resilience pushed her to tackle the role at TGE. Australian legend and former #1 tennis seed Ash Barty talks exclusively to Forbes Australia about quitting tennis at the top of her game, what makes her tick and what is next for Brand Barty. This issue also features Richard White, CEO of WiseTech Global and Australia's 10th richest person with a net worth of $5.4 billion, activewear giant Lorna Jane Clarkson, Baker's Delight's founder and CEO Lesley and Elise Gillespie, Facebook founder Mark Zuckerberg and wife Dr. Priscilla Chan, and the list of Australia's 10 most expensive homes.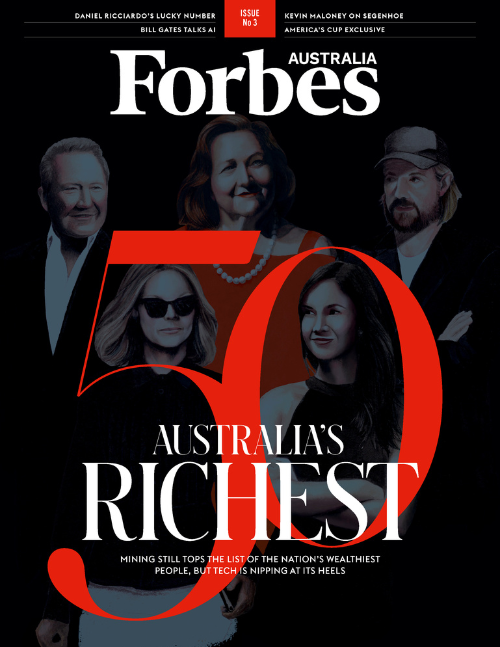 Issue 3
Australia's 50 Richest Issue
23 February 2023
Leading the issue is the Forbes list of Australia's 50 Richest, the definitive list of the richest people in Australia. The collective wealth of Australia's 50 Richest on the 2023 Forbes list soared 70% to US$213 billion from $125 billion in 2019 when the list was last published. Bill Gates shares why AI will be the hottest topic of 2023 and we speak to brothers Dimitry and Aengus Tran, co-founders of Harrison.ai, a medical technology company that aims to transform healthcare using AI. Australian Formula One superstar Daniel Riccardo discusses the third edition of his DR3 vintage in collaboration with St Hugo Wines, and his favourite, yet surprising, off-duty drive. Plus, meet the brothers behind Catch of the Day, Scoopon, Menulog and more, Gabby and Hezi Leibovich.
Issue 2
Nov/Dec Issue
24 November 2022
In this issue, entrepreneur Tim Gurner exclusively reveals to Forbes Australia how he's turning his life's purpose and 20 years of testing hundreds of bio hacks into a new multi-million-dollar wellness enterprise. We speak to 91-year-old Heinrich Hora on how close he is to creating viable nuclear fusion, and Beer with a Billionaire features David Dicker discussing his new Bombardier jet. Westfield heiress Betty Klimenko enthuses about her v8 supercars and favourite roadster, and former creative director of Qantas Marc Newson (who also helped design the Apple Watch) talks about how much of his work is about problem solving.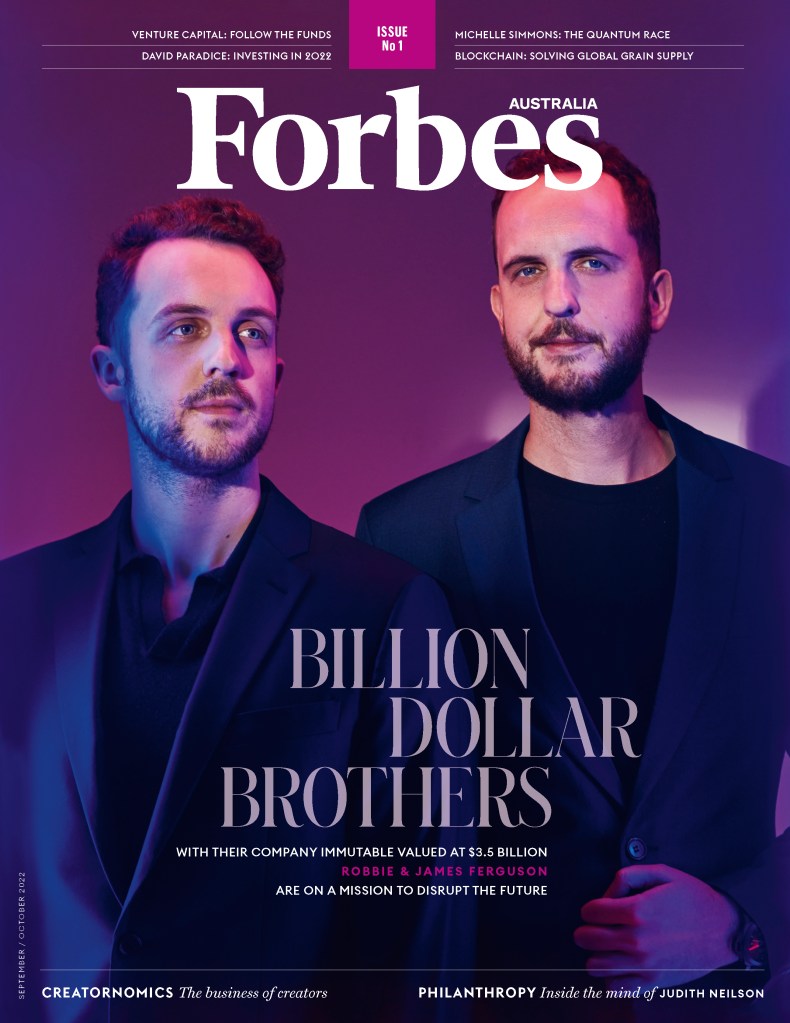 Issue 1
The launch issue of Forbes Australia.
26 September 2022
Inside this issue we uncover the stories of Australian entrepreneurs at the forefront of change. We talk to billionaire brothers and founders of Immutable, Robbie and James Ferguson; we go inside the mind of philanthropist Judith Neilson; and we explore the business of social media creators.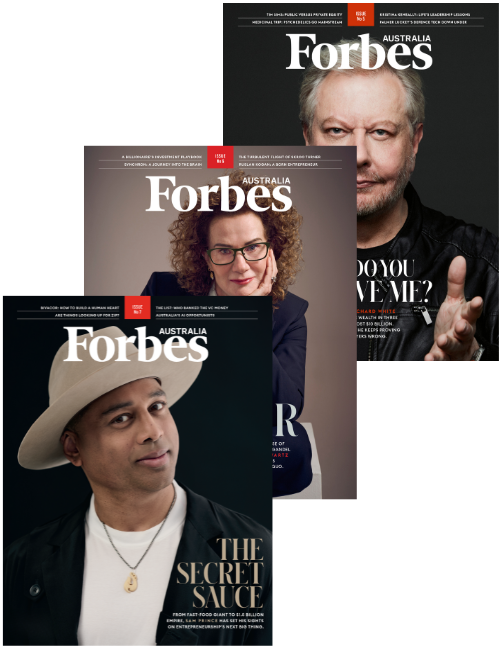 Past Issue Bundle
Order the past 3 issues (Issues 5, 6 and 7) of Forbes Australia magazine.
About Forbes Australia
For 105 years, Forbes has championed success by celebrating those who have made it and those who aspire to make it. The brand convenes and curates the most influential leaders and entrepreneurs who are driving change, transforming business and making a significant impact on the world.
Forbes Australia was launched in 2022 to celebrate all the great ideas that start here, and talk about entrepreneurship and homegrown success stories in a global context.
Solutions-focused journalism
By tapping into the deep well of real stories about success, determination, leadership and creativity that exist here, we will share the ideas of the best and the brightest – from the established grandees to the up-and-comers in the nation today.