AI propelled investor hype in 2023 but is the excitement slowing down?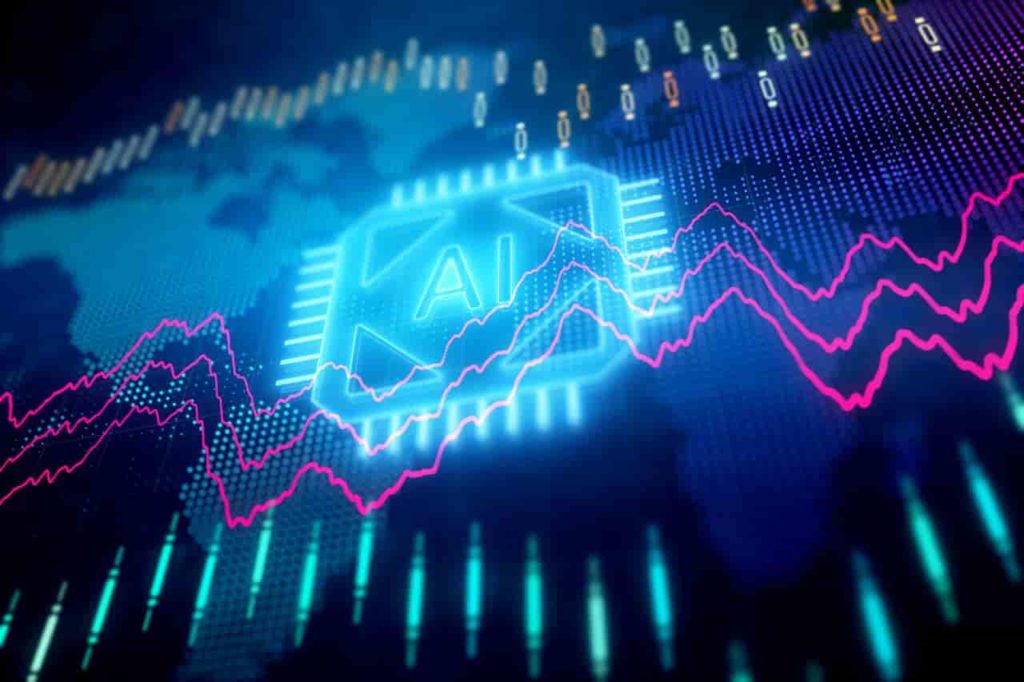 Thirty years ago, in the back of a Denny's restaurant in California, three friends envisioned a chip capable of enabling 3D graphics on PCs.
The business they eventually founded, Nvidia, tipped over the US$1 trillion mark in May 2023, with a market cap of $1.122 trillion as of October.
One of the co founders and now Nvidia CEO, Jensen Huang, returned to that same Silicon Valley Denny's in late September. He placed a plaque on the wall commemorating the role the restaurant had in the nascent stages of their business.
Nvidia's co founders originally hoped to support video gaming with their semiconductor innovation. In 2023, their work is supporting something else: computing power to bolster the rapid adoption of Artificial Intelligence (AI).
Now Nvidia stands among seven mega tech stocks that have been supporting investor excitement about companies with an AI focus.
Nvidia joins Apple, Microsoft, Alphabet, Amazon, Meta and Tesla as companies that have been leading the AI charge. They cover different areas of innovation, but they all share a core feature: a big focus on enhancing or enabling artificial intelligence.
But with the S&P500 and NASDAQ indexes pulling back in recent weeks – along with some of the big seven, will the AI excitement continue?
Tina Teng, Market Analyst at CMC Markets, advises looking beyond the AI-related hype to how companies are translating their AI innovations into real revenue and how they can attract users.
Teng cites Microsoft as having arguably taken a strong position early by investing in ChatGPT. Alphabet, meanwhile, is hoping to catch up with its own language model, Google Baird, launching a few months after ChatGPT.
On Apple, Teng says, "Just because they don't really talk about it, doesn't mean they are not developing this technology." But adds it's important to consider how they are progressing on hardware sales, especially with iPhone 15 data soon to be released.
As for Nvidia's growth run, Teng anticipates it could continue. "Nobody else in the industry can really match them at the moment because they started so early on, and they already have so much market share."
AI and tech's big stock seven
As investor interest in AI swells, so too has the stock price of companies at the cutting edge of AI, or those companies providing the essential tools to support its rapid growth.
But as the S&P500's largest seven stocks show, this uptick is far from being distributed equally. Nor is the uptick stable.
It's worth noting the S&P500 is worth US$5 trillion more now, than it was when the first mainstream and easily accessible generative AI chatbot ChatGPT was unveiled by OpenAI. More is expected to come, with Morgan Stanley predicting the AI technology market could be worth US$275 billion by 2027, up from $90 billion today.
But at the end of the 2023 FY, it was these seven companies which elevated the overall performance of the S&P500, with some analysts suggesting they might be masking the impact of rising interest rates in the United States and the underwhelming performance across other sectors.
There may be much more to see in AI, and so it's also worth paying attention to what is unfolding beyond the big seven and their current market dominance. One-third of organisations reported using gen AI regularly in at least one business function, according to a global survey by McKinsey published in August – a rapid adoption rate, given it's not yet been a year since the most accessible gen AI tools were rolled out. While companies have varying reasons for adopting AI, a primary motivator is enhancing productivity. This could lead to considerable growth for companies, depending on the scale and potential of AI adoption.
Is the overall AI-generated stock momentum here to stay?
While AI's pace of development may not match optimistic forecasts, especially given the costs it entails as well as the exponential growth in computing power required, its fully untapped potential is yet to be realised.
Teng says to look beyond a company's AI announcements and PR and to consider more typical factors, like the company's debt and where they are losing money. "The reality for investors is that you can't invest in every company that makes an announcement related to AI, you need to look at other factors too."
The tech behind the big seven surge
Below are some of the AI-related announcements the big seven have been making.
Nvidia is the key runaway success story, and the only one of the seven mega-companies leading the surge that lacks widespread household name recognition.
Its success stems from the revolution in artificial intelligence and its very specific role in supporting such growth, with the GPUs once created for superior gaming graphics now having a far wider market application in enabling computing power to support AI.
Microsoft, meanwhile, is riding the AI wave in different ways — albeit supported by Nvidia's graphics chips. Its $10 billion investment in OpenAI earlier this year highlighted its commitment to being at the forefront of AI. It has also developed a number of key products leveraging AI, including the launch of Microsoft 365 Copilot, a version of its business software suite that incorporates generative AI.
Alphabet is betting on Google's Baird AI chatbot, with regional rollout announcements correlating with positive share price movements. Google has also just announced plans to add generative AI capabilities to its virtual assistant. But it's already on the back foot, given ChatGPT's head start launching in November 2022, compared to Baird's March 2023 launch.
Meta has also recently unveiled a number of AI experiences and features across its platforms including AI image editing, and the soon-to-be-released new assistant 'Meta AI' which users can interact with across WhatsApp, Messenger and Instagram. It is also garnering hype regarding the upcoming launch of Ray-Ban Meta smart glasses and Quest 3.
Amazon harnesses AI to continuously drive efficiencies across its eCommerce platform, such as by providing personalised recommendations to consumers and enabling automation in warehouses. It also retains a pioneering position through cashless stores and, in September, announced enhancements to its cloud-based voice service Alexa, including a new hardware launch, with Echo Hub.
Tesla is taking a different road on AI. It's set to release the next version of its self-driving system by the end of the year, while its Dojo supercomputer could be a game-changer, with its ability to handle large amounts of data in training driving systems. The company will also invest US$1 billion in research and development of Dojo by the end of 2024, a significant investment for a company to make into one product.
Finally, Apple is pursuing its own work in AI, albeit with a quieter approach than its peers. It is set to launch its own AI-powered chatbot, leveraging an existing history of machine learning in its projects. CEO Tim Cook recently told Forbes that AI is used across its products "fairly pervasively", highlighting examples like the Apple Watch which incorporates AI in AFib to detect a crash, and the AI used in predictive text. On generative AI, he said Apple has been working on it for years and taking a thoughtful approach, given some of the "not-good uses".
The article is intended to provide general information only and does not take into account your individual objectives, financial situation or needs. Past performance is not necessarily indicative of future performance. You should seek independent financial and tax advice before making any decision based on this information, the views or information expressed in this article.