Personalised Education for Every Child: The Spectrum Tuition Approach
The education system is one of the most critical factors in shaping the future of our society. With the rapid advancements we are seeing with technology, it is essential that we provide students with the tools and resources they need to succeed in life. Unfortunately, the education system faces challenges that leave some students to fall through the cracks. This is where Thuy Pham, the founder of Spectrum Tuition, comes in.

As a first year university student, Thuy Pham had no idea that her passion to help other children with their learning would one day turn into a successful teaching platform. Spectrum Tuition, the platform she founded, now offers tailored tuition programs to students over 13 campuses through a franchised network across Melbourne, with plans to expand further afield. Additionally, Spectrum Tuition also gives students an opportunity to complete the entire Year Prep to Year 12 English and mathematics curriculum via on demand lessons that students can access at any time.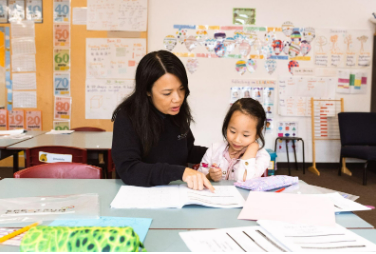 Thuy working one-on-onewith a Spectrum student
Thuy Pham has a unique approach to teaching that sets Spectrum Tuition apart from others in the education sector. She believes that without a consistent, standardised foundation and structure, the classroom experience is at the mercy of other challenges. Spectrum's continuously refined curriculum is aligned firmly with the national education standards, ensuring students are fully supported throughout their schooling.
Thuy's emphasis on personalised learning has been the cornerstone of her success in the education sector. Her platform supports students' learning needs from Prep to Year 12, including programs to prepare students for scholarships and selective programs. It draws on the latest educational research including Rosenshine's 10 Principles of Instruction for its curriculum development, which come from three sources: a) research in cognitive science b) research on master teachers, and c) research on cognitive supports. Spectrum Tuition classes start with a review of previous learning through weekly assessments to track students' results. This is then used as a basis for ensuring that knowledge gaps are identified and addressed through a systematic approach of presenting concepts in small steps and then checking for understanding every step of the way until students achieve mastery.
Thuy's understanding of the inconsistencies in the education system is grounded in her personal experiences. While posted in several schools at the start of her career, she discovered the administrative strain on teachers, where the lack of time spent on designing and refining curricula meant teachers often had to 'reinvent the wheel' every year. This lack of continuity and consistency from one class to another has made it increasingly challenging for teachers to manage common hurdles they are faced with on a day-to-day basis. Teacher shortages have forced schools to form composite classrooms, where different year groups and ability levels are combined into one class. This is particularly difficult for teachers since there already exists a 'six-year spread' where it has been found that there is a spread of between five to eight year levels within a single class. In situations where there are not enough teachers, students are simply sent home, which further widens existing gaps in knowledge. The challenges faced by our current educators have made it increasingly difficult to personalise the learning experience for individual students.
As a result, through Spectrum Tuition, Thuy created a system to ensure that classes run consistently with a program that utilises comprehensive video resources to support students' learning, with or without a teacher present. Students can learn at their own pace and at their own challenge level, whilst allowing teachers more one-on-one time with students who may need it most. Thuy's personalised approach to teaching has successfully helped thousands of students achieve their learning goals.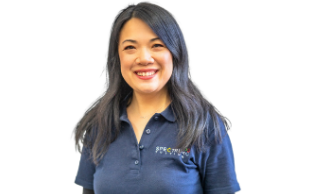 Thuy Pham, Founder of Spectrum Tuition
When a Melbourne principal was searching for a more structured approach to learning within his school, he approached Thuy to implement Spectrum's methodology. Seeking to replace an outdated online learning system, the principal saw Spectrum as "the closest program to real life classroom teaching online".
"We wanted an opportunity for students to learn at their own pace," the principal explained. "The biggest challenges for us were improved individualised learning opportunities, a technology based learning platform and an ability for the program to be used individually by students and integrated into classroom practice. The Spectrum program addressed all of these challenges and more."
There is a debate among educational experts regarding the effectiveness of explicit teaching versus leading students to draw their own conclusions. Thuy believes that both approaches have their place, and that it depends on each individual student's needs within the learning and teaching cycle. When introducing a new concept, explicit teaching may be more effective, and when students have developed their skills and a firm foundation, leading them to draw their conclusions may be more appropriate to encourage critical and higher-order thinking skills. By using both cohesively, the Spectrum system ensures that subjects are thoroughly covered whilst also accounting for students for whom extra attention is needed, whether that is through extension or to address learning gaps.
Thuy's 23 years of experience in the education sector has led her to believe that the lack of a consistent resource to support both teachers, with their administrative and planning tasks, as well as students through a structured program, has resulted in some students not meeting minimum requirements when transitioning from one year to the next or from primary to high school. Having been exposed to students from all different backgrounds, learning experiences and requirements through Spectrum Tuition, Thuy has a deep understanding of the challenges that students from opposite ends of the spectrum are facing when seeking further support.
"At Spectrum Tuition, we focus on providing a personalised approach to teaching that caters to the unique needs of each student. By tailoring our materials and methods to the individual, we help students reach their full potential and achieve their learning goals. Our aim is to not just prepare students for exams but to equip them with the skills and knowledge they need to succeed in life," says Thuy Pham, founder of Spectrum Tuition.