A radical Aussie surf-park design promises a new wave of cheaper rides and higher real estate values.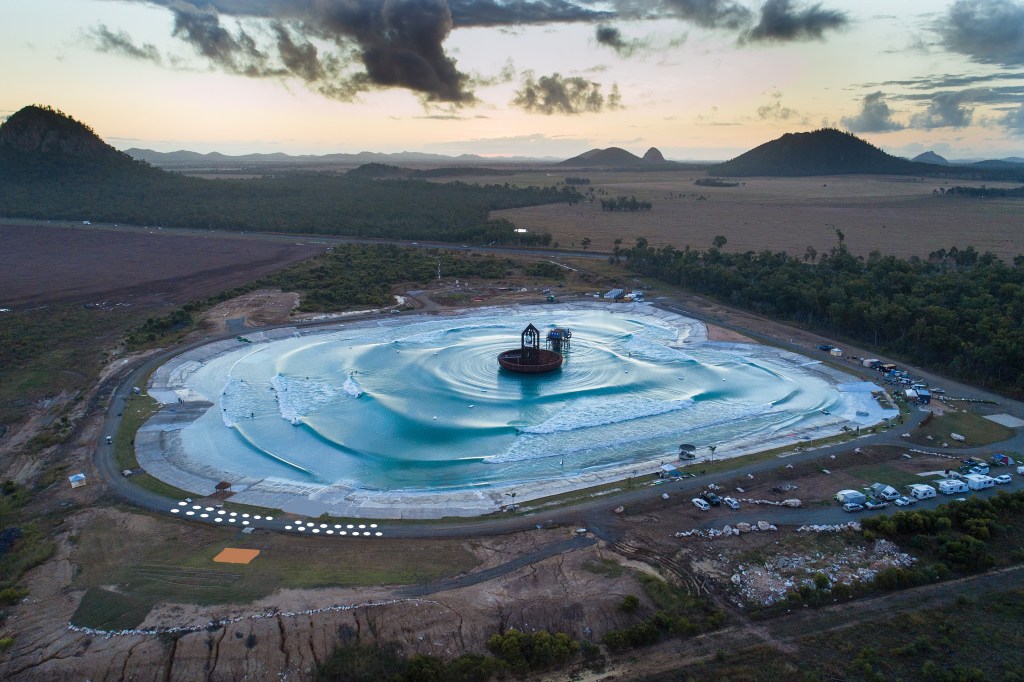 Aaron Trevis was messing around with the kids, skimming stones in a lake back of Brisbane in 2006, when he started showing off, lobbing ever larger boulders for the splash. Trevis, a mining engineer and surfer who'd found himself living far from the waves, noticed the ripples hitting the smooth shore in perfect little barrels – and the Surf Lakes dream was born.
"I thought, 'My goodness! It's an interesting concept. How do we make that real? How do we make it bigger?" recalls Trevis.
The surf lake idea sat with him for a few years while he moved to Canberra to run a non-profit, but in 2012, now living in Brisbane, he started tinkering – building an A-frame above the backyard pool. He suspended a large water-filled cone from the frame and dropped it in, sending breakers into the neighbour's yard.
A friend's farm dam on the Sunshine Coast provided the site for the next surf lake prototypes. Trevis busied himself hand-shaping the bottom to understand how to create different breaks radiating out 360 degrees from the plunger so that each bank of the dam got a different type of ride.
Meanwhile R&D engineer Kit Sidwell from Engenuity Solutions came on to work on scaling up the giant plunger. They developed numerous patents.
They tried crowd funding – and got a "big crowd, no funding" – before a friend, Dr Charles Foster, came in with the first six-figure injection of capital and the use of his farm dam at Broadford, Victoria.
"It was basically a bi-directional drive. We were pushing it up, pushing it down," says Trevis, "trying to work out what's the best way to produce a set of waves. We shaped these great little waves. It wasn't perfect, but we'd solved the problem of how to make these concentric waves.
"So the next question was how do we scale up? And that was where the money needed to be raised."
In 2016, Trevis teamed up with co-founders Reuben Buchanan and Dr Chris Hawley to form Surf Lakes Holdings and went about fundraising and built a full-scale machine at Yeppoon (pictured above) in 2018.
Twelve years and $12 million of investment since he'd thrown those boulders in a lake, Trevis got to surf one of those "perfect barrels" at Yeppoon.
Since then, Surf Lakes has grown to a team of 28. They raised and spent nearly $37 million on a valuation of $100 million, says Trevis, but they still haven't got a single surf lake open to the public. The Yeppoon site does, however, have full approval and is hoped to open in 2025. Crucially, Surf Lakes has income. It has sold 17 licensing agreements, mostly in the US.
"There's one in California which is pushing to get under construction this year. And then there's one in Austin, Texas, one in South Carolina. Vegas might get started this year."
Other licences include Arizona, Florida, Tennessee and Singapore.
From the time of Trevis's initial idea, however, the world of surfable wave pools has changed dramatically.
"Wavegarden based out of Spain, they were like 10 years ahead of us in the work that they were doing," says Trevis. "Then (former world surfing champion) Kelly Slater launched his wave pool in 2015. And that did the world a big favour because wave pools were a bit of a joke in the surfing community … Kelly showed the world that the waves can be incredible."
Slater's pool, with a long, single wave down the length of a former ski park, produces only 120 waves a day. It costs $85,000 to rent the place for a day in summer. It's reported to cost $500 to ride a single wave.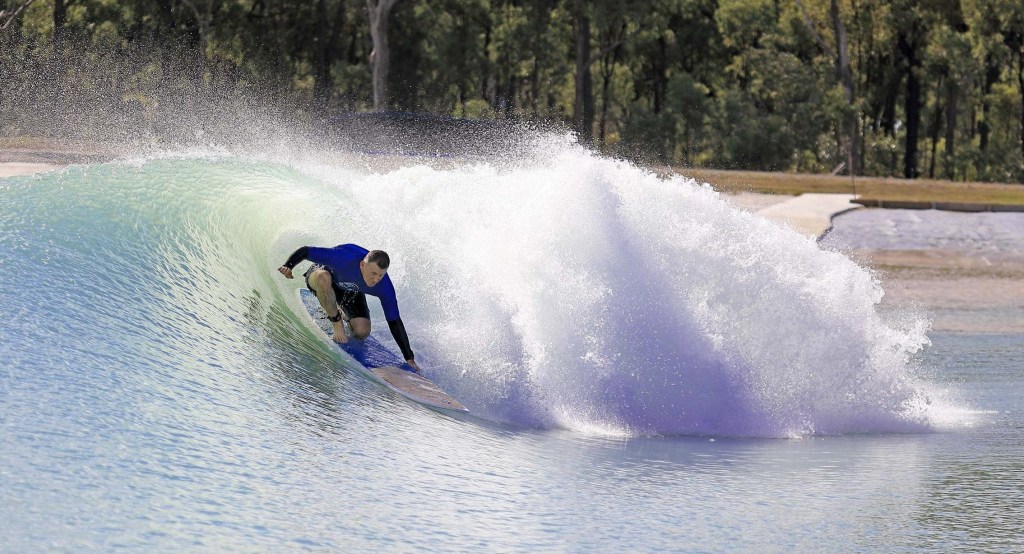 "The issue with his technology is that there's one wave. It's a great wave. I've had the privilege of surfing it. But it's not very productive.
"We produce many, many waves all at the same time so we've got the most profitable opportunity in the space." He predicts it will cost as little as $50 an hour to ride their waves. The concentric design allows a beginners broken wave, plus four other waves, with each break going left and right, meaning there are eight simultaneous rides. See video here.
In 2020, URBNSURF Melbourne opened with its quarter-circle-shaped Wavegarden pool at Tullamarine offering two separate breaks. It charges between $79 and $144 for a session.
There are reported to be 20 surf-pool manufacturers now operating around the globe.
According to Trevis, various surveys have shown about half the world's population want to try surfing.
"We believe in 20 years there should be at least 1000 of these (surf pools) around the planet. If we have one tenth of that we'd be more than happy."
Part of the appeal of the Surf Lakes circular design is that it creates a lot of beach-front real estate.
"The things that developers are picking up with us is that we're creating this central attraction that will carry an entire community. The guys in Austin (Texas) have got 400 acres. They're building a township around the surf lake. It'll be surrounded by apartments, hotels, cafes and restaurants.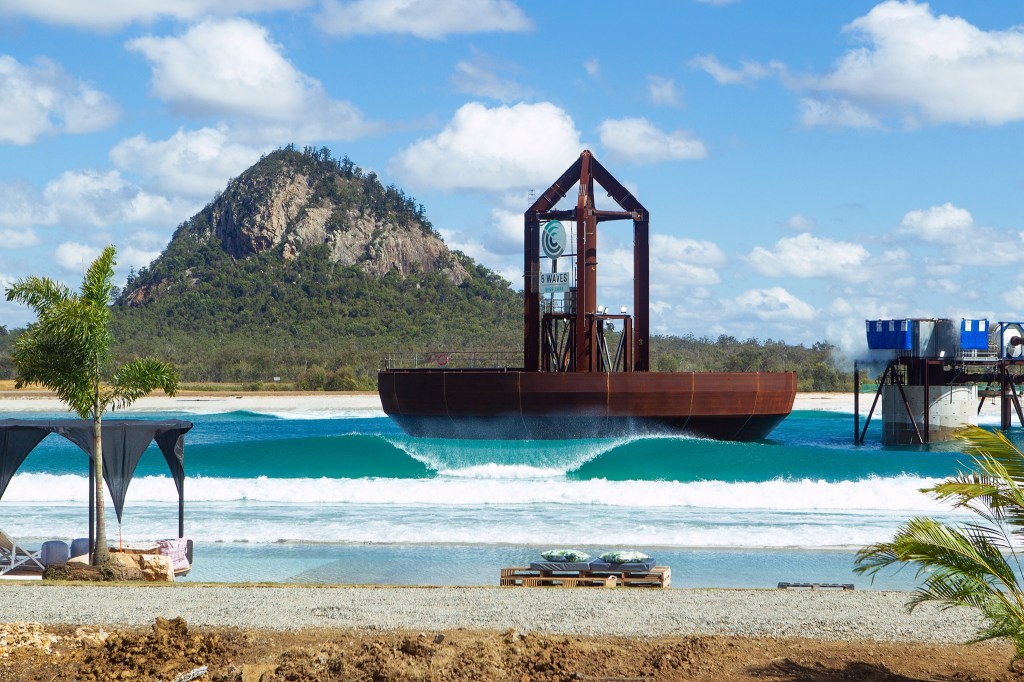 "Think about creating 800 meters of absolute beachfront with perfect waves every day and every night. Imagine the value tied up in 800 meters of absolute beachfront … The property valuation gains are enormous. These developers just love the fact that they've got a big vision that we can activate."
Surf Lakes has been signing 25-year licences which require the licensees to work closely with Surf Lakes throughout the life of the agreement.
"From initial site inspection through to getting people up on boards, every step of the way, we have to make sure we've ticked all of the boxes," says Trevis.
They needed a secure system to manage it all and announced on Friday a deal with UK firm Ideagen to handle close collaborations with the different licensees.
Ideagen's senior vice president Asia Pacific, David Griffiths, said that even though his company works with customers like the US Department of Defense, NASA and the Bank of England, it is targeting ambitious, innovative growth businesses like Surf Lakes.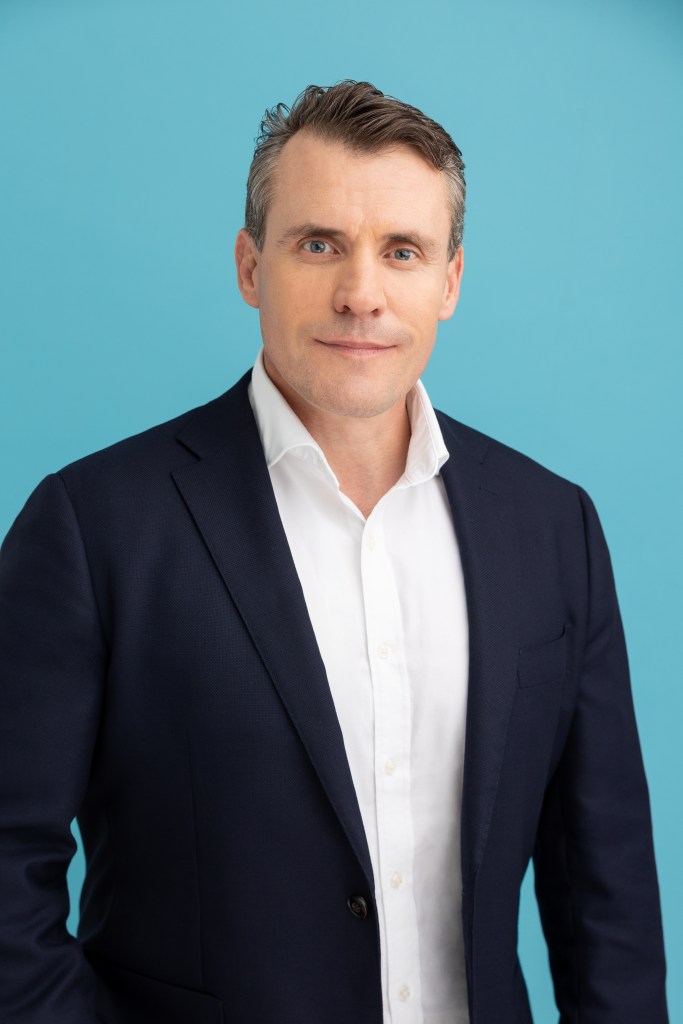 He said the Ideagen product, Huddle, was a customizable client portal that allows external collaboration outside firewalls. "We're talking about document collaboration, we're talking about project collaboration, and the critical, unique point about Huddle is just how easy it is for external collaborators to get in and use it."
Administration was a huge cost to business, he said, and when the burden of cybersecurity and privacy were added, they become high-risk areas for business. "So Huddle provides all of that in a highly controlled setting. With really strong security in place and greater efficiencies at the other end for those end users."