Catapult Sports is changing the game when it comes to professional sport.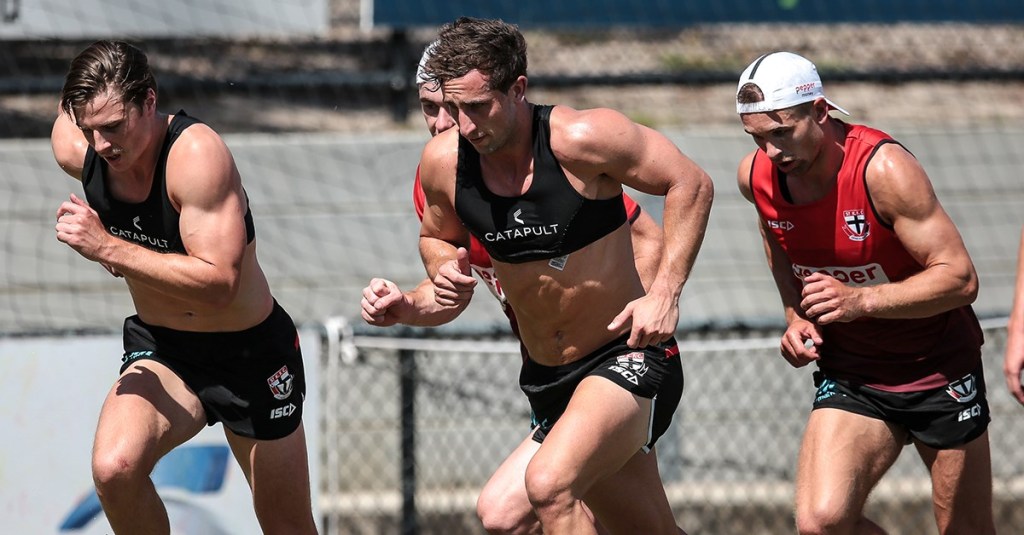 Combining wearable technology with hi-tech video is helping Australian tech company Catapult Sports change the game when it comes to professional sport.
Catapult Sports was initially formed in Melbourne as a collaboration between the Australian Institute of Sport and Cooperative Research Centres in a bid to maximise the performance of athletes ahead of the 2000 Sydney Olympic Games. Today, the ASX-listed company is changing the way data analytics are used in professional sports around the world.
Catapult's American-based CEO, Will Lopes, says moving from "descriptive" data analytics in sports – describing how athletes performed – to "prescriptive" analysis – making predictions about how games might play out in the future – is a game changer in sports tech.
Catapult – which has a market capitalisation of around $200 million – already works with almost 3,000 professional teams from top sporting codes from the AFL to Premier League, NRL and the NBA – but it wants to expand.
"For the enormous amounts of budgets that exist in sport, when you actually pull the covers underneath it, technology is still fairly new in that space," Lopes says. "The scope [for expansion] is huge."
In 2019, "benched athletes" cost the English Premier league an estimated £300 million ($542 million) in wages alone.

– Will Lopes, Catapult CEO
Lopes understands how to grow tech companies using a subscription-based pay model, and that is what he plans to achieve with Catapult. American-based Lopes was one of audio book giant Audible's original executives prior to and after its sale to Amazon. Now he wants to turn Catapult into "the Salesforce of sports". The ASX-listed company had total revenue of $US77 million in FY2022 and it has predicted ACV growth of 20 to 25% in FY2023.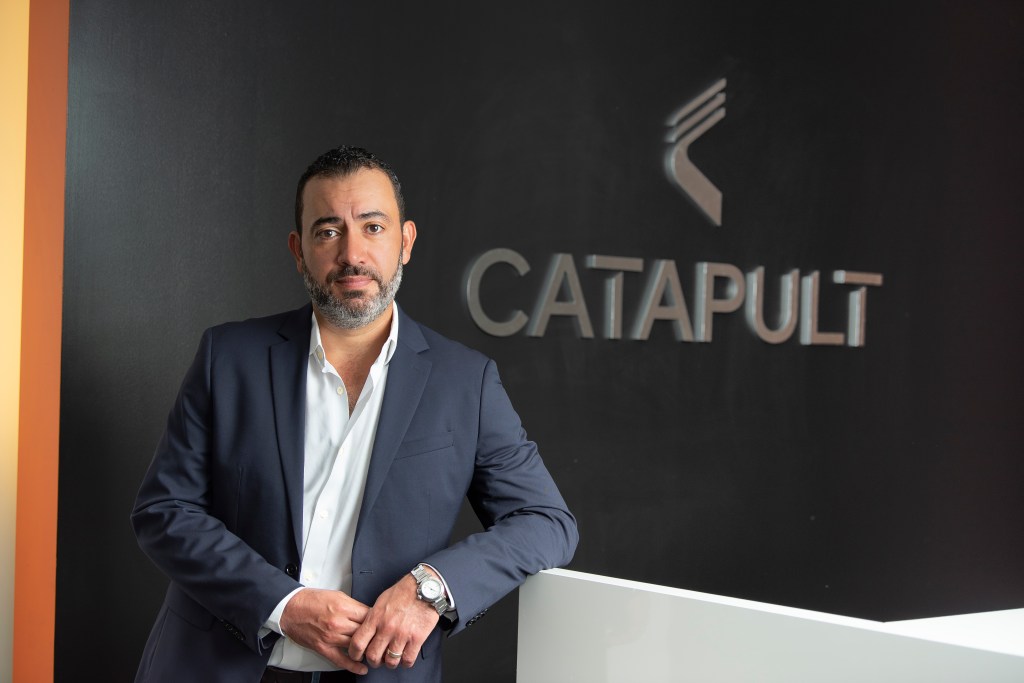 "We are trying to become the Salesforce of sport. Salesforce, in its early days, was a very basic data aggregator for sales, but over time it became a much more sophisticated customer platform that allowed all areas of organisations to participate."
A key part of its growth plan was Catapult's 2021 $40 million acquisition of sports software video provider, SBG Sports Software Limited. Previously, SBG was best known for creating Mercedes' Formula 1 high-level live data and video technology. By combining the wearable technology's sophisticated data analytics with hi-tech video, teams move beyond analysing players' performance, to understanding how to influence the game.
Helping to understand the players
In the case of one high-profile player from a Premier League team in Europe, the technology provided invaluable insights about how to best utilise its players' strengths and avoid weaknesses, according to Lopes.
In one instance, an ageing "star" Premier League player – who cannot be named for privacy reasons – was recruited by the national team to represent his country. His coach at the Premier League team, who had used Catapult data to carefully craft a training regime around the player's strengths and weaknesses, had passed on that information the coach of the national team.
"The [Premier League] coach said: 'we have really honed down this training regime where this player could really play his hardest if he wanted to, but you really want to pull him out at between the 75th to 85th minute of the game, because anything above that will really start to increase his chances of soft tissue injury," Lopes recounts. "The national team at the time, were still not believing data, and so…they took the player, they played him over the time, and within three games, he had a hamstring injury and could not be played for the rest of the season."
In 2019, "benched athletes" cost the English Premier league an estimated £300 million ($542 million) in wages alone. That figure across all pro-sports is likely to be many more hundreds of millions each year, he says.
"How many of our top athletes in the world are sitting on the bench because they got injured and how many of those injuries could we have helped to prevent?" Lopes says. "From a cost perspective it is huge … and there's an opportunity to do some amazing work here."
In professional ice hockey, technology is changing quickly, from quite rudimentary data analytics less than a decade ago, to sophisticated real-time video and analysis today. Matt Price, director of strength and performance science for top 10 NHL team, the Los Angeles Kings says the technology is now a crucial aspect of their team management.
"The league has evolved dramatically over the past 10 years from a time when goalies would play a heavy amount of the schedule to now something more balanced," Price says.  "We had generic metrics such as time on ice that helped us start the conversation around what our goalies were experiencing, but Catapult opened up another layer of the conversation with more specifics about their unique movements and playing patterns. It's added a crucial level of player management for our team."
Bringing F1 tech to pro sports
Catapult's decision to fast-track its technology offering by acquiring SBG made sense, according to Lopes. SBG's origins were in F1 racing – namely the Mercedes F1 team – which has always been at the forefront of video analytics and live video because to the technological nature of racing.
"If you watch the technology in F1 and then you watch the technology in team sports, it's like you're watching what team sports will be 10 years from now," Lopes says.
SBG's technology allowed 150-plus video feeds in any given race and 1000 telemetry points from an F1 car – from wind speed to track temperature – which would "not only give real analytical power to the teams, but they actually started producing predictive outcomes of each race".
"So, a race strategist can sit there and say, 'ok, based on the corners that my driver is taking, the wear on my tyres, the temperature of the track and where others are, etcetera, I could make some predictions of where I want to pit my car'. If I call a driver on lap 34 and someone else calls him on lap 36, what will that do to the race? I can play a much more strategic game."
Less time watching re-runs
In the award-winning sports drama, Ted Lasso, the protagonist played by Jason Sudeikis is an American college football coach hired to coach a professional English soccer team. During the show there are various scenes where Lasso and his team's trainer spend seemingly countless hours painstakingly playing and re-playing videos of the team's old games in order to form a strategy.
On average, video analysts at professional sporting teams spend two to three days post-game reviewing footage, which is then presented in a package to the coach. Sports data technology, such as Catapult, reduces that time, through real-time data and video, to around two hours.
"About 90% of their time, when they're not on the ground or training, where they're really spending their time is analysing video. It's a huge time waster.
"Other than being very time consuming, the key missing point of analysis is the physical capability and capacity of athletes. For example: 'do I have an athlete who is reaching an exhaustion point … or are they at a point in their season when they really need to rest and we need to quantify that," Lopes says.
When sophisticated performance analytics are used, an analyst can request specific information, such as periods where the athletes were exhausted or under intense pressure and have information readily available almost instantly.
Future plays
For the next year Catapult will focus on rolling out its new combined wearables and video offering to as many sports as possible. In early 2022, it rolled out the product to soccer and rugby teams and in the second half of the year it was launched in basketball. Lopes says the company is very close to offering its updated product to American football, ice hockey and other sports.
Lopes believes the kind of technology that Catapult offers could be a game changer in the recruitment of new players, especially at a junior level. Catapult currently works with US basketball academy, Duke, to help them use the technology to select and train the best athletes, while creating the most suitable training regime for each player.
"The kids come out from high-school and they will put on a device so they can get a comparison point for how would this athlete fit into the program, but more importantly, how would the athlete fit into the practical elements of how I run the team?
"They will use that also as they become collegian athletes, for recruitment purposed with the NBA."