Businesses can reap massive benefits from implementing a continuous research model for their digital products, according to Jonathan Widawski, co-founder and CEO of continuous product discovery platform Maze.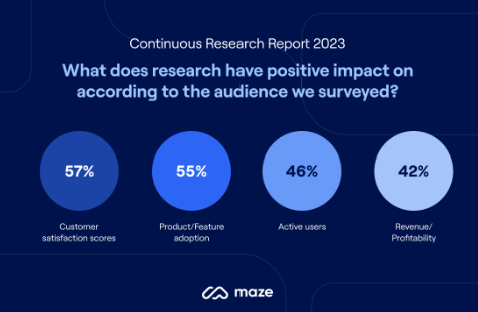 Unlike physical products, there is no such thing as an endpoint for digital products, which are in a state of constant flux. Digital products are regularly being debugged and updated, with new features added periodically. Research is a crucial component in developing a product, so, naturally, continuous research is important in ensuring a digital product remains relevant and responsive to the needs of its user base.
According to a report by the continuous product discovery platform Maze and software firm Atlassian, continuous research is becoming a well-established practice in the industry. A majority (77%) of respondents said that they conduct a new research study at least monthly, while 83% of product professionals (composed of designers, product managers, and researchers) agreed that research should happen at every stage of the product development process.
Jonathan Widawski, co-founder and CEO of Maze, says he believes that in a world where the product team's focus has shifted from output to outcome, decision-making is the most critical muscle organizations must build to remain competitive. Continuous Product Discovery eliminates assumptions and biases in product decision-making by incorporating user insights throughout the product development process, enabling learning to happen at scale.
While most of the report's respondents agreed on the importance of research, only 60% of respondents connect with customers only once a month, despite making product-related decisions on a daily basis. Furthermore, only 36% of digital product teams perform research post-launch.
Collecting user input throughout the entire product development cycle is essential. Without user input early on, the product team will end up building products based on generalizations, assumptions, and biases. On the other hand, concrete data and feedback provide product professionals with a clearer roadmap of what to build, along with validation that what they're building is on the right track.
The report found that 78% of respondents believe that their organization isn't doing enough research or could be doing it more frequently. The top reasons cited for this were limitations in time, budget, respondent recruitment, and tooling.
The good news is that companies are becoming more open to involving more people throughout the product development process, according to Maze's report. Aside from designated researchers, more staff at companies are contributing to the research function, including designers, product managers, marketers, and engineers.
Widawski believes that by empowering everyone in product teams to engage in research, organizations can be in tune with customer needs and motivations, allowing for constant improvement of their product. While there are still some challenges holding product teams back, overall continuous discovery and research is becoming a more established practice and delivers significant benefits for product teams.
These include eliminating assumptions in product decision-making, keeping products in sync with user needs, validating concepts before development, creating more satisfying user experiences, and making more effective company-wide decisions.
According to Widawski, the Researcher's role has shifted from operational to educational, driving a fast democratization of research across the entire product organization.
Maze provides several tips on how businesses can incorporate continuous discovery and research into their operations.
Schedule time for it – Maze found that product teams conducting research more frequently (weekly or daily) report more effective decision-making than those who conduct research sporadically (quarterly or yearly).

Make it part of the project proposal – Research should never be considered an "extra" task or an afterthought. Companies must build it into the process from the beginning, to ensure that it is not seen as a set of individual studies but as a continuous learning cycle.

Implement the right research tools – Maze can provide unified solutions for discovery, from prototype testing and surveys to card sorting and video recordings. Businesses can use it to recruit participants and generate automated reports for every piece of research they run.

Mix and match methods – A well-designed piece of research can include a variety of methods in order to get a more well-rounded idea of what's going on and achieve its goals. Organizations can combine generative and evaluative studies, qualitative and quantitative data, as well as primary and secondary sources of data.

Get everyone involved – Democratization of research allows an organization to cast a wider net and gather more data, and the increased diversity of viewpoints allows deeper insights to be drawn from the research. Furthermore, the value of research conducted on a product extends beyond the product itself. The research brings benefits to the organization as a whole regarding strategic decisions, as well as inspiration regarding new products.
Widawski says: "Research has a direct ROI impact at every level of the organization: from the product teams derisking the desirability, usability, and business viability of new product lines, all the way to empowering the C-suite to drive the company's strategy in competitive markets.
At Maze, our goal is to power organisations and teams of all sizes to learn continuously — providing them with the tools and knowledge they need to validate every strategic decision along the way."
This article is a paid partnership with Maze.