The theme of Indigenous Business Month for 2023 is 'To gather, together' which serves as a powerful reminder that we work best when we unite and collaborate.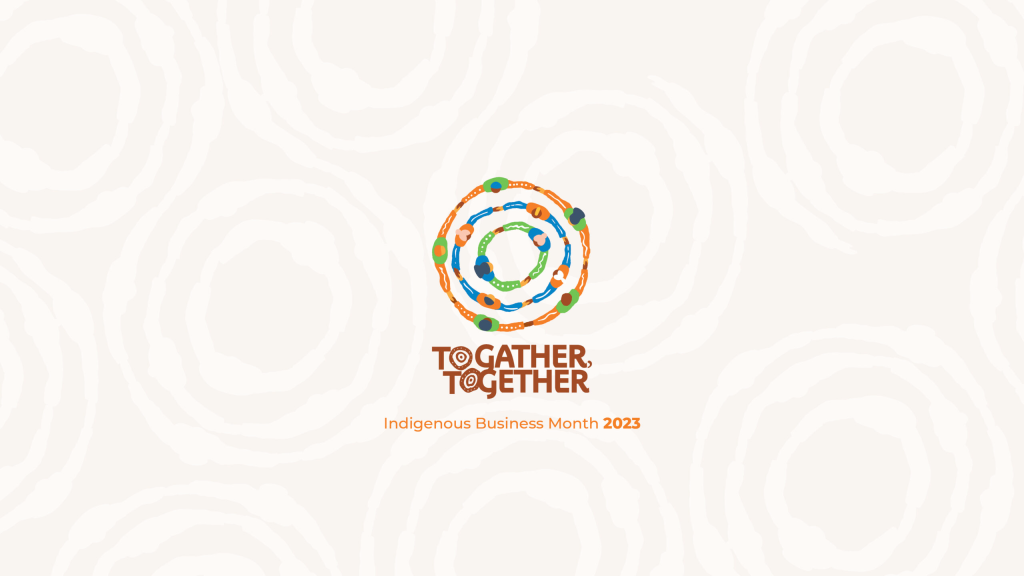 Indigenous enterprises do not work in isolation; they are deeply intertwined with community, culture and country, and these connections are being drawn upon in powerful and innovative ways to build thriving businesses.
Growth of Indigenous business sector in Australia
The significant growth of the Indigenous business sector is a positive trend in the economic landscape of Australia.
Despite the difficulties associated with measuring activity in this area (owing to there not being an Indigenous identifier when registering a business), researchers at the University of Melbourne embarked on an ambitious project to integrate data from the four largest Indigenous business registries.
The research found that from 2006 to 2018, there was a 74% increase in the number of enterprises operating in the Indigenous business sector which represented a more than doubling of sector-wide gross income (115% growth).
This translated to the creation of more than 22,000 jobs (University of Melbourne, 2021). And the trend only seems to be gaining momentum.
The growth of the Indigenous business sector can be attributed to numerous factors including increased recognition of Indigenous rights, structural reforms, and increased appreciation of Indigenous culture.
Arguably, however, the most compelling reason for this growth is the fundamental entrepreneurial spirit that thrives within Aboriginal and Torres Strait Islander communities.
Innovation of Indigenous businesses
Aboriginal and Torres Strait Islander people, with their deep connection to land, have a long tradition and a unique capacity to blend heritage with innovation, creating sustainable and culturally rich enterprises.
Indigenous entrepreneurs continue to identify niche markets, introduce unique products and services, and leverage technology in novel ways to expand into new markets. Products and services range from arts and crafts to tourism, to construction, technology and healthcare.
Such diversification makes the Indigenous business sector more resilient to economic fluctuations.
Global opportunities are also opening as Indigenous businesses increasingly explore international markets and export products and services to countries around the world.
In this way, the growth of the Indigenous business sector not only promotes Aboriginal and Torres Strait Islander cultures and knowledge on the national and global stage; it empowers communities by providing employment opportunities and economic wealth.
Businesses such as Kakadu Organics, Jala Jala Treats, and Liandra (swim & leisurewear) are proving their worth in the global marketplace and paving the way for future Indigenous success overseas.
Importance of Indigenous procurement
The growth in the Indigenous business sector can also be attributed to new policies implemented by government, the most notable is the Indigenous Procurement Policy (IPP).
The IPP was introduced in 2015 and provides a whole-of-government framework to increase procurement with Indigenous businesses by harnessing the purchasing power of non-corporate Commonwealth entities.
Since its implementation, the IPP has generated over $6.9 billion in contracting opportunities for Indigenous businesses. This has involved over 47,500 contracts awarded to more than 3,000 businesses (NIAA, 2023).
In the 2021–22 financial year alone, over 1,200 Indigenous businesses secured more than 11,500 new contracts, and as of September 2022, these were valued at $1.6 billion (NIAA, 2023).
Responsibility of Indigenous procurement by corporate sector
Under the umbrella of the IPP, there are several initiatives in place to ensure Indigenous businesses get the opportunities they need to succeed.
Mandatory Set-Aside arrangements provide Indigenous SMEs with the opportunity to demonstrate value for money before the procuring official makes a general approach to the market.
Indigenous businesses continues to win more contracts under these measures, particularly in remote areas (NIAA, 2023).
Mandatory Minimum Indigenous requirements apply to contracts wholly delivered in Australia valued at or above $7.5 million.
Since 1 July 2016, 376 contracts valued at $21.6 billion, awarded to 210 organisations, have been subject to the mandatory minimum Indigenous participation requirement (NIAA, 2023).
IBA's relationship with corporate Australia and financial institutions
Indigenous Business Australia (IBA) focuses on capacity building and skill development so that Aboriginal and Torres Strait Islander people are economically independent and an integral part of the economy.
IBA has been instrumental in nurturing growth through training, mentoring, offering access to loans and resources, and by supporting Aboriginal and Torres Strait Islander entrepreneurs to establish and sustain their enterprises.
One of the ways in which IBA has built capacity in the sector is through the Strong Women, Strong Business network which has connected thousands of First Nations women and provided a platform to access business resources, training opportunities and mentorship arrangements.
Perhaps the most powerful support from the IBA is through the provision of finance. Over the last five years IBA approved $280 million in business finance and assisted 1,002 business finance customers (IBA Annual Report 2021–22).
IBA provided finance lease and chattel mortgage solutions to the Western Desert Nganampa Walytja Palyantjaku Tjutaku Aboriginal Corporation, now known as Purple House, which they used to purchase vehicles for their fleet that travels to remote areas around Australia to ensure patients get the dialysis treatment they need.
IBA allies
In line with this year's theme of gathering together, IBA connects with like-minded allies who share a common vision and the organisation has partnered with:
Kimberley Birds on regional Aboriginal Women's Business and Leadership Camps
Melbourne University's Business School on the Dilin Duwa Centre for Indigenous Business Leadership and the MURRA Indigenous Business Program
Aboriginal businesswoman, Mundanara Bayles with the Black Magic Woman podcast
Kinaway Chamber to build virtual profiles and provide new trading opportunities to the businesses' customers
Blak Wattle, a female-led coaching consultancy firm, to provide access to mentoring and business coaching to women
Yamatji Enterprises and 4Ways Fresh Produce to develop and operate a horticulture business in Geraldton
Returning to theme
Returning to the theme, gathering together and seeking connections is at the heart of Aboriginal and Torres Strait Islander culture.
If we continue along this path of collaborating and unifying, the prosperity that lays ahead for us in the Aboriginal and Torres Strait Islander business sector, and the rest of Australia, cannot be understated.
---
About Eddie Fry
Eddie is a Dagoman-Wardaman man from the Katherine region in the Northern Territory. Based in Adelaide, he is the chairperson for the corporate Commonwealth entity, Indigenous Business Australia (IBA), which resides in the portfolio of the Prime Minister and Cabinet and is accountable to the Australian Parliament through the Minister for Indigenous Australians, the Hon Linda Burney MP.
In addition to his work with IBA, Eddie is an executive director of Gimbulki Ltd, a native title land access company he established in 2002, Chair of the Indigenous Advisory Board at Broadspectrum (since 2010), Deputy Chair of the Aboriginal Foundation of South Australia Inc. and Chair of Todd River Resources Limited. He holds a Diploma in Business Management from the University of South Australia and is a graduate of the International Lead and Zinc Study Group.
Look back on the week that was with hand-picked articles from Australia and around the world. Sign up to the Forbes Australia newsletter here.
More from Forbes Australia