Billionaire retail patriarch and philanthropist, Marc Besen, dies aged 99. But his legacy is in safe hands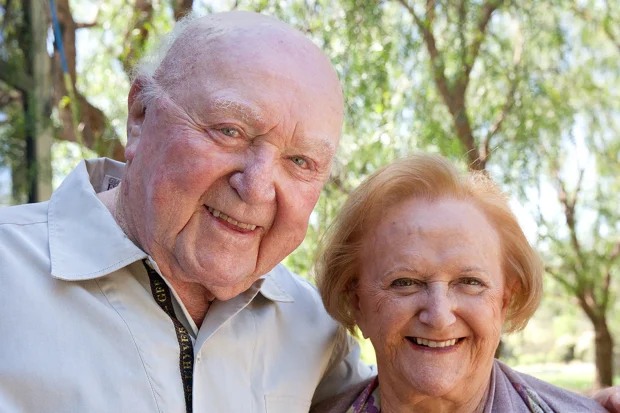 Marc Besen (1947 – 2023)
Besen was born in Romania in 1923 and arrived in Australia in 1947, where he and his late wife Eva Besen (who died in August 2021), and her brother John Gandel, grew the corsetry store Sussan into one of the country's most successful retail enterprises.

By 199o, Besen had 169 Sussan outlets and by the early 2000s, the retail juggernaut was turning over more than $600 million.

Outside of his retail endeavours, Besen was known for his philanthropy, establishing the Besen Family Foundation in 1978.

Today, Besen's daughter Naomi Milgrom runs the shop under ARJ Group Holdings. Besen's other daughter, Carol Schwartz, who appeared on the cover of Forbes Australia's 6th issue, is a successful venture capitalist.

He died one month shy of his 100th birthday.
If ever there was a better example of a life spent overcoming incredible odds and contributing not only to business, but society as a whole – it is Holocaust survivor and Australian businessman Marc Besen. Besen passed away this week in Melbourne aged 99 and is survived by his large, extended family.
Billionaire businessman and one of Australia's most generous philanthropists, Marc Besen, has died aged 99 in Melbourne this week, just one month shy of his 100th birthday.
Marc Besen was a legend of Australian business and a member of "retail royalty" who built shopping centres, invested in commercial property and co-founded the iconic retail brand, Sussan. But to those who knew him best – his family — he was kind, funny, loyal and incredibly wise – right up until the end.
Besen, a Holocaust survivor, immigrated to Australia in the late 40s after years of displacement with barely a dollar to his name. He rebuilt his life from scratch, along with his wife Eva Besen (née Gandel) – eventually becoming one of the country's biggest contributors to business and the arts. Marc Besen and family are estimated to be worth around $2.23 billion.
During his early years in Australia, Besen established an import business, supplying wife Eva's parents, Sam and Fay Gandel hosiery for their business in Melbourne. In 1950 he married Eva and went into into business with his brother-in-law, John Gandel – who has an estimated wealth of $3.1 billion according to the Forbes Richest list.
Together, Marc and Eva had four children – Naomi Milgrom, Carol Schwartz, Debbie Dadon and Daniel Besen — all hugely successful business operators, philanthropists and leaders in their own right.
Carol Schwartz, who featured on the cover of Forbes Australia's 6th issue in August/September, is the Chair of the Women's Leadership Institute Australia, Trawalla Group and the Climate Council of Australia. She's also a board member of the Reserve Bank of Australia and one of the most active backers of women investors in Australia. More on Carol Schwartz here.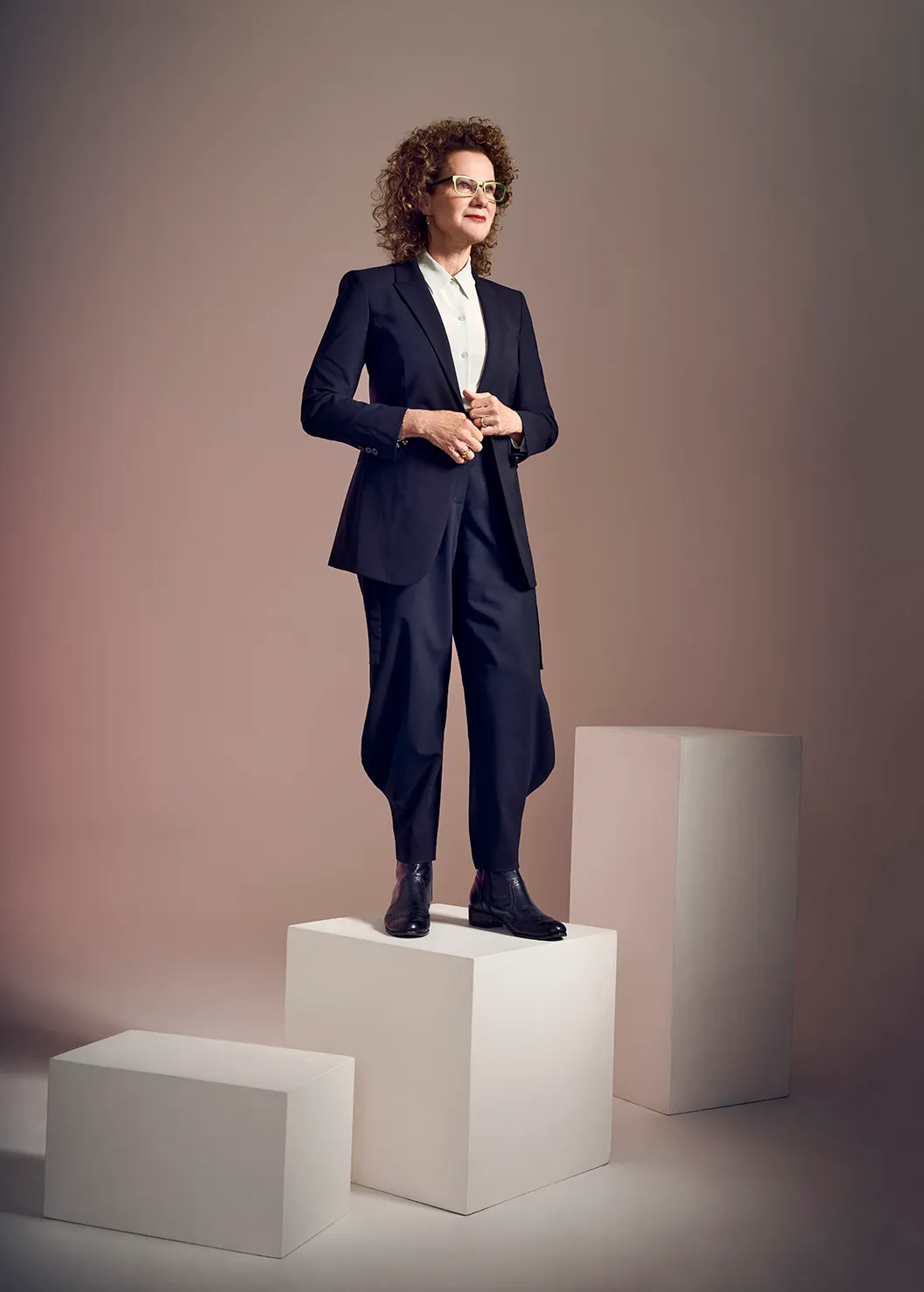 In an exclusive interview with Forbes Australia earlier this year, Schwartz said her father – a grandfather to 13 and a great-grandfather to 17 — was still an "incredible counsel" to his children and grandchildren right up until the end of his life. While he encouraged his children to follow their entrepreneurial interests – he never "pushed" them to follow in his footsteps, urging them to take their own paths, Schwartz said.
"When you have a resource like a 99-year-old father who is still incredibly 'with it' is amazing. He is very wise and a good counsel – I mean how lucky can you be?" She said. "He's an incredible role model for us all."
Schwartz said watching Besen care for her mother at the end of her life, while she was suffering from Alzheimer's disease brought out a softer, caring side of her father.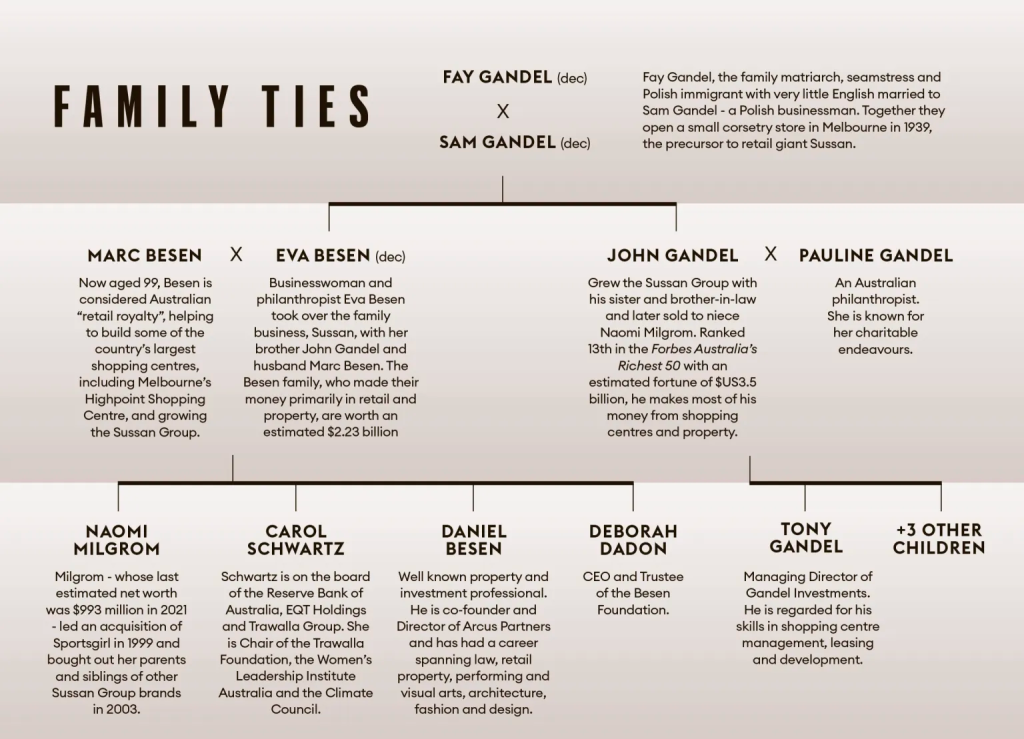 "It brought out the best in my father as the most loving, caring and involved spouse you could ever imagine. He was just stunning. I guess as their children, we got to see him in a role that we had never seen him in before," she said.
Besen had been healthy and active up until around age 95 – even singing and dancing throughout his 90th birthday celebrations, but over the past few years he had struggled with mobility.
On Australia Day in 2015, Besen was named a Companion of the Order of Australia for his contribution to social welfare, health, education and the arts. As well as their philanthropic contributions, Eva and March established the TarraWarra Museum of Art in Victoria's Yarra Valley, the largest and first privately funded public museum, which they gifted to Australia.
In a eulogy delivered on Wednesday by lawyer Mark Leibler, Besen's story was about "the strength of the human spirit; our capacity to triumph over adversity; and about having a vision and the determination, the persistence and self-belief to make it a reality".
"More than anything, it's a story of love, loyalty and compassion – demonstrating that a hard head and a soft heart are the perfect combination for a successful life that genuinely counts for something," Leibler said.
In 2015, Besen was recognised for his contributions to the arts, health, education and social welfare sectors, and for growing Australia's retail industry, and was named Companion of the Order of Australia.
In a eulogy delivered on Wednesday by lawyer Mark Leibler at the Melbourne Hebrew Congregation in South Yarra on Wednesday night, Besen was remembered as "making Australia undeniably better in so many ways".
"He seemed unaffected by his immense success and what it had afforded him in life. He remained natural, straightforward and genuine. Through all the years I knew him, he remained motivated by the same inclination to do what he believed was right," Leibler said.
"Marc loved to encourage and nurture young people and he simply adored his own children. He encouraged them to be the best they could be, and took enormous pride in watching Naomi, Carol, Debbie and Daniel each become business and community leaders, and undeniably good people, in their own right."
Look back on the week that was with hand-picked articles from Australia and around the world. Sign up to the Forbes Australia newsletter here or become a member here.
More from Forbes Australia