Australians have spoken, and the results are not looking good for Netflix. A new report reveals customers are pushing back on restrictions against password sharing. Instead, users are looking elsewhere for streaming video-on-demand content.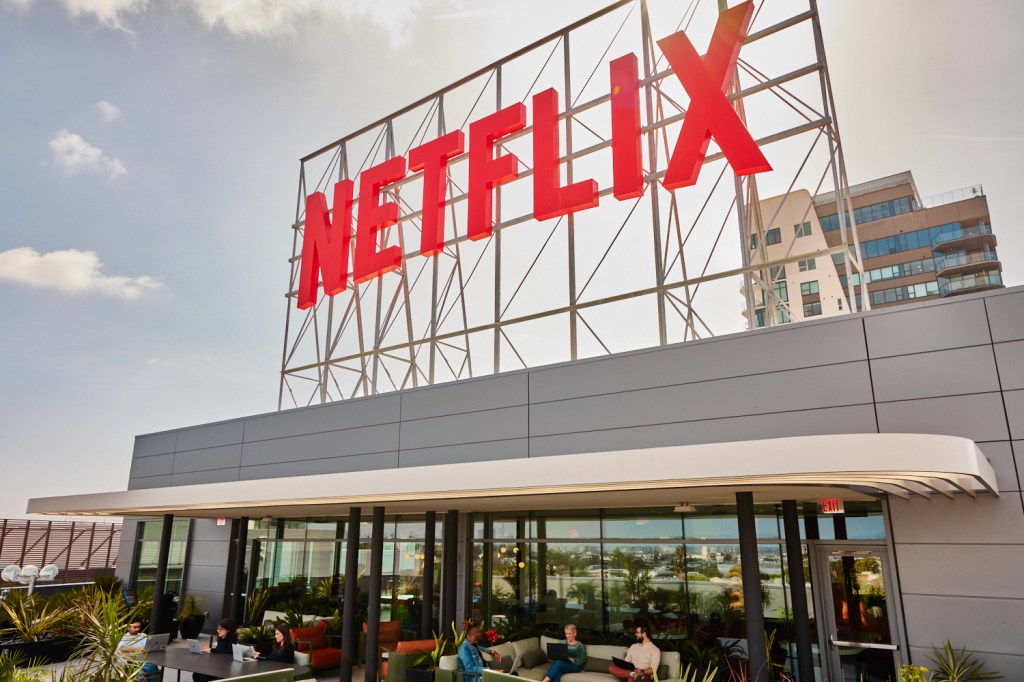 It has been an integral part of the way we consume content for more than eight years. Netflix is the most popular streaming site in Australia, but its dream run of growth may be coming to an end.
New figures released by Telsyte show Netflix subscriber numbers fell in June, and almost 200,000 Australian users have abandoned the service over the last 12 months. It is the first time the streaming service has seen a decline in Australian subscribers.
The US-headquartered company started cracking down on password sharing in May, forcing each user to pay a monthly subscription fee. The tech giant initially reported a large uptake in new subscribers following the changes, revealing a record-high number of subscriptions over a four-day period in June. However, that honeymoon period now appears to be over, in Australia at least, with many users opting to leave Netflix behind.
Pushback on password sharing
The Telsyte study found that 1 in 3 Australian SVOD (subscription video on demand) subscribers share their service with friends and family. Seven per cent of new users who signed up over the past 12 months have pushed back against the new rules and cancelled their Netflix subscriptions.
Telsyte notes there is also resistance to Netflix's new ad-supported model, amid concerns over the increased cost of living. As living expenses balloon, the majority of video-on-demand users have accepted that streaming fees will too, according to Telsyte.
That could signal comfort with a price increase. Half of those surveyed called subscription services 'vital' to meeting their entertainment needs. And they are budgeting accordingly. Telsyte says that on average, Aussies are willing to allocate $36 per month to streaming services.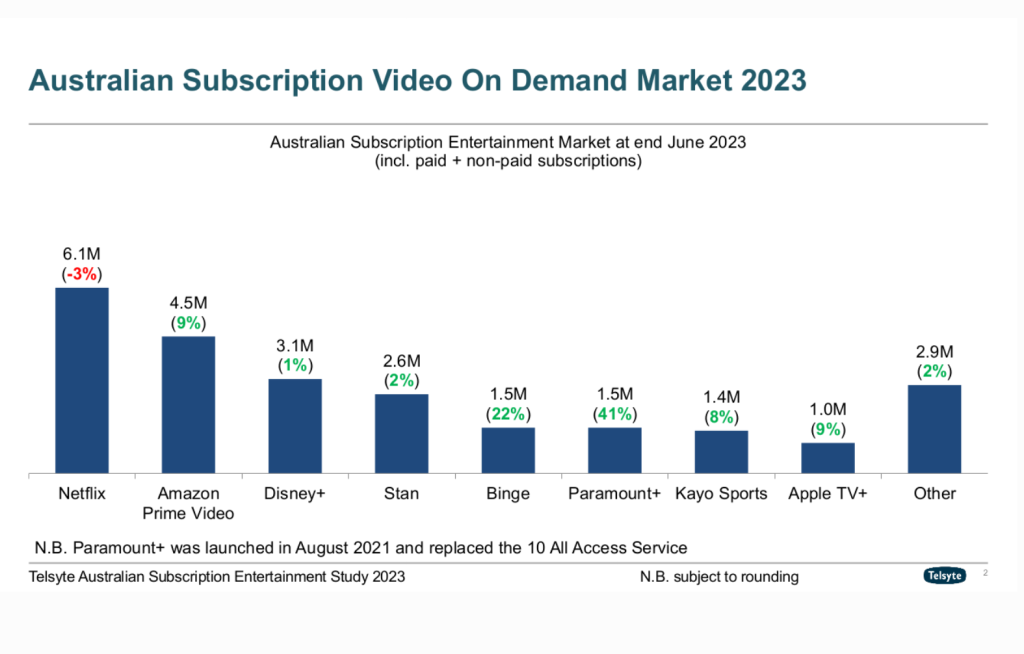 Data on the entire SVOD category shows that demand is strong, despite the decline in growth at Netflix. Signups for other video subscription services increased in June.
SVOD numbers grew 5% year over year, to 24.6 million subscribers.
That averages roughly one streaming subscription for each person in Australia.
Don't count Netflix out entirely though. The streaming service continues its reign as the number 1 SVOD service used by Aussies.
Amazon Prime is number 2, seeing a 9 per cent gain year over year. Disney+ is up just 1 percent. Australia's Stan and Binge round out the top 5, the latter achieving growth of 22 per cent on 2022's numbers. The Paramount + app, providing US content as well as locally produced shows from channel 10, had the highest percentage growth at 41.
Growth in subscriptions for music, games and payTV is up too. There are now just shy of 50 million subscribers to entertainment services in Australia. While signups increased 3 per cent on 2022 figures, growth has slowed from the double-digit expansion seen last year.
Local Production In, Generative AI Out
In other news from the Telsyte research, 60 per cent of those surveyed say they want to see more locally produced content on streaming platforms. A pushback on the recent generative AI boom sweeping the globe was also revealed.
50 per cent of the Australian population doesn't believe that generative AI can create captivating content, according to Telsyte. These results come at the same time that the U.S. Screen Actors Guild (SAG) and Producers Guild of America (PGA) strike for a better deal with distribution channels. SAG and PGA are pushing for studios and streamers to address monetization and job loss as a consequence of generative AI.
More than half of Australians said they want content shaped by generative AI to be regulated. 62 per cent of those surveyed want production companies to compensate actors, and to seek consent for the likeness of talent to be digitally replicated.
Look back on the week that was with hand-picked articles from Australia and around the world. Sign up to the Forbes Australia newsletter here.
More from Forbes Australia