The much-hyped device hopes to usher in a world beyond smartphones—an area where several companies have tried and come up short.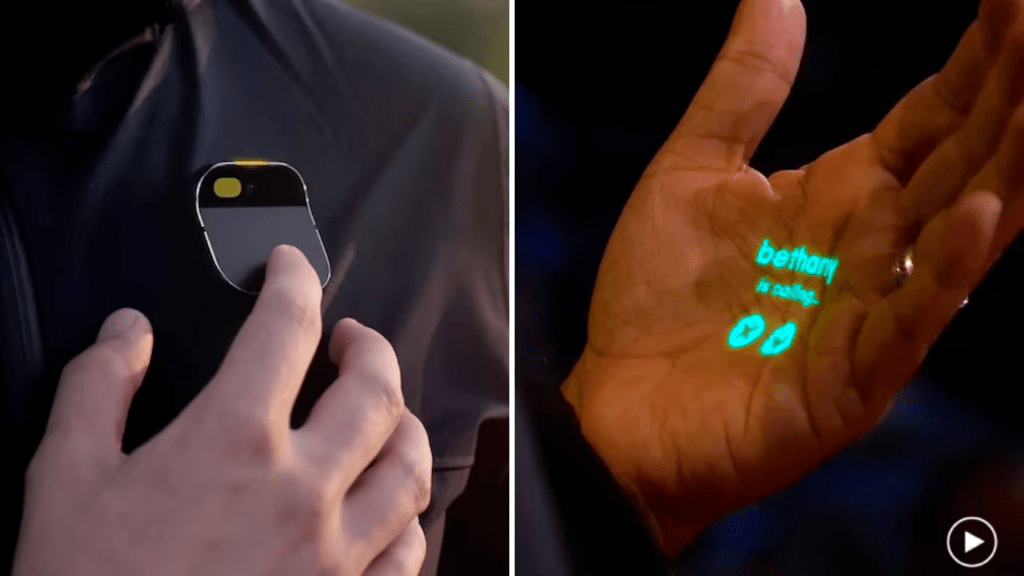 ---
After months of hype, Humane, a San Francisco-based artificial intelligence company, on Thursday launched its first product: the AI Pin, a digital personal assistant housed in a tiny, square-shaped piece of hardware.
Unlike a phone, the device has no screen. It's a small gadget with a magnet that pins it to a wearer's clothes. A camera and sensors scan a wearer's environment and pick up on contextual cues for answering queries, like where to shop when visiting a new city. While it is primarily voice-activated, it has a tiny projector to beam out laser icons and text on a user's palm. The company touts computer vision features—like holding up a piece of food to the device to get an evaluation of nutritional value, as well as translation features that speak in the user's own voice.
The pin is powered by large language AI models developed by Microsoft and OpenAI. It contains a Qualcomm Snapdragon processor, ultrawide camera, and Bluetooth connectivity. The device will run on T-Mobile's network and will cost $699 (AU$1100), plus $24 per month for a data subscription and cloud storage. It will go on sale November 16.
Humane was co-founded in 2019 by former Apple executives Imran Chaudhri and Bethany Bongiorno, a husband-and-wife team that collectively worked on the Mac, iPod, iPad, iPhone, Apple Watch, and iOS.
Chaudhri focused on user interface and interactions, including helping to invent the swipe-to-unlock feature that debuted in the first iPhone. Bongiorno was a director of software engineering who helped to launch the original iPad. The cofounders have said the experience of ushering in an age of touch computing mobile phones inspired them to make a device that was more minimal, an attempt to break people's modern addiction to screens.
"AI Pin is the embodiment of our vision to integrate AI into the fabric of daily life, enhancing our capabilities without overshadowing our humanity," the duo said in a statement.
Some critics of the AI Pin fear the device's camera could inspire privacy concerns by recording video of people who might be unaware they are on camera. To mitigate them, the company built in what it calls a Trust Light to indicate when the device is in use. The company also said the device's microphone is not always on and listening for wake words like Amazon Echo or Google Home smart speakers. Instead, Humane's system must be manually activated.
Prior to the launch on Thursday, Humane had teased the device several times in a flashy awareness campaign. Supermodel Naomi Campbell wore the pin on the runway at Paris Fashion Week. Earlier this year, Chaudhri demoed a few features during a presentation at TED, including taking phone calls via hologram and asking the device for gift ideas. "Your AI effectively becomes an ever-evolving, personalized form of memory," he said at TED. "And we think that's amazing."
Humane's investors include Tiger Global Management, Kindred Ventures, Qualcomm Ventures and OpenAI CEO Sam Altman.
"We believe in a future where artificial intelligence amplifies human potential, and Humane shares this vision," Altman said in a statement. "We're proud to be partnering with them to harness AI and redefine how we interact with technology — and the world." But while Altman backs Humane, he is also reportedly in talks with Apple's legendary former designer Jony Ive and Softbanks's Masa Son to develop a similar-sounding AI device.
As Humane tries to find its footing, the company has its work cut out for it. While the AI Pin has generated a lot of attention, wearable computing has been a notoriously difficult market for tech companies. Virtual reality headsets from Meta and its ilk have mostly been niche devices, unable to find wider traction. Google created a spectacular flop more than a decade ago with Google Glass, a smart eyewear device with an onboard camera.
The product immediately drew fervent backlash because people feared the camera could violate their privacy with surreptitious recording. The device was eventually banned from movie theatres and other public places, and one person was punched in a bar while wearing them.
Humane's fiercest competitor in the wearable market is likely from its cofounders' former employer. In June, Apple unveiled the Reality Pro, a powerful mixed reality headset for "spatial computing," controlled largely through hand gestures.
The startup's announcement marks the culmination of a months-long hype cycle. The launch was reportedly initially set for last month to coincide with the solar eclipse, but was pushed back. On Thursday, Humane alluded to more beyond its inaugural device. "For us, AI Pin is just the beginning," Chaudhri and Bongiorno said.
This article was first published on forbes.com.