The level of venture capital funding allocated to women-founded and led businesses has halved since 2020 to just 3%. But a growing number of female venture capital fund managers with connections to some of the country's most influential, wealthiest families, are attempting to provide greater opportunities for women, investors and the economy.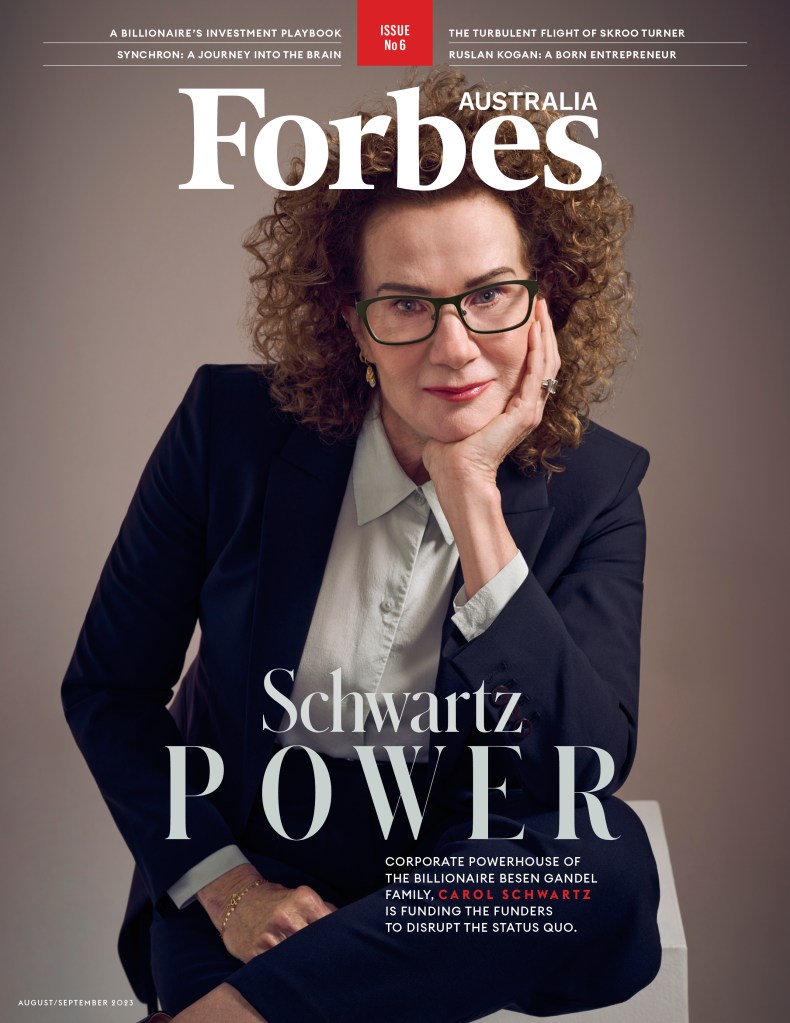 Australia's female VC leaders are just getting started. If you want to learn more, Rachael Neumann will share her full story live at the Forbes Australia Business Summit. You can secure your ticket here.
Key Figures
22% of startups are founded by women, but just 0.7% of funding secured by start-ups went to solely women-founded companies in FY22. (1)

$2.88 trillion: the economic impact to the global economy from achieving gender equality in business growth. (2)

$10 billion: the amount of VC investment in Australia in 2022. (3) NSW dominated VC investment, accounting for 66.5% of all investment worth an estimated $6.6 billion. (4)
Source: (1) SBE/Deloitte Access Economics, (2) Citi Group: Women entrepreneurs: catalyzing growth, innovation and equality (March 2022),(3,4) Funding for Women Led Ventures: Gender Diversity in Australian Startup Funding, Techboard.
When Rachael Neumann – co-founder of venture capital fund Flying Fox Ventures – left her first job in the male-dominated venture capital industry as a young woman in Silicon Valley 20 years ago, she swore she would never return to the industry until a time when she was in charge.
"It was a moment like: 'There's no place for me as a woman here. There's no place for me as a young person. I'm out of here'," she says.
"After one experience, I thought: 'I will only come back here when I am the boss'."
Neumann went on to build a strong career in tech, including becoming the first ANZ Managing Director of Eventbrite, where she expanded the business before relocating to San Francisco to lead its growth strategy globally. She later advised companies such as Canva and was chair of Startup Aus.
Four years ago, Neumann co-founded Wade Institute's Catalyst Program, which educates people to become VC investors by aiming to "demystify the class". Participants in the program have invested more than $50 million in their own investments.
After leaving Eventbrite and becoming chair of Startup Aus, Neumann found herself in a position to be able to invest her own capital.
"Eventbrite had a liquidity event that put some money in my pocket, and I started to think whether I should be putting my money where my mouth is. If I knew how to unlock growth, why am I not putting my own money down?" she says.
Today Flying Fox – led by three female partners – has more than 450 investors, including Carol Schwartz, and more than 50% of investors are women.
So far, it has invested more than $25 million into 54 companies, and while it doesn't invest solely in women-founded businesses, 38% of its capital is so far backing female founders.
Flying Fox will close its first fund this year and begin raising for its next fund early next year.
Uneven sums
A recent Deloitte report found that while 22% of startups were founded by women, just 0.7% of the early-stage funding secured by businesses went to them.
It's a "significant" economic opportunity that VC funds are missing, according to the Deloitte report. In 2021, 341 female startup founders, backed by VC funds SBE, Heads Over Heels and Scale Investors, contributed to $1 billion in economic activity and 5,000 full-time employees.
A report by Cut Through Venture, which surveys 156 startup investors, found that investment in women-founded businesses is not increasing. Numbers have halved since 2020, when levels sat at around 6%. For businesses with a combination of male and female founders, that figure sits at 22%.
Workplace Gender Equality Agency found that a 10-percentage point increase in female representation on the Boards of Australian ASX- listed companies led to a 4.9% increase in company market value, worth the equivalent of AU$78.5 million for the average company.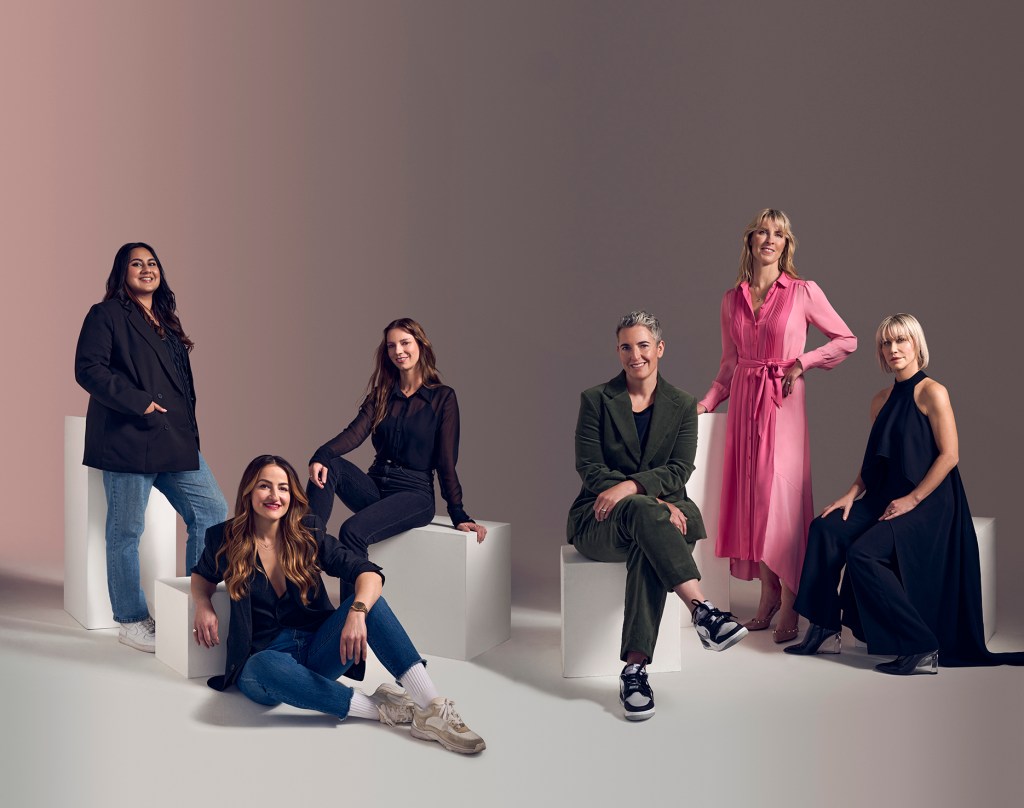 Some research also shows women-founded businesses are better overall performers, at least in the early stages. The Diversity Council of Australia's Inclusion@Work Index (2019-2020) found that for every dollar of funding, women-founded startups generated 78 cents of revenue, compared to 31 cents for male-founded startups.
Citi Group estimated in 2022 the economic impact on the global economy from achieving gender equality in business growth at $2.88 trillion.
Other VC firms such as SBE, Folklore, OneVentures and AirTree have also made a commitment to investing in female-founded businesses. SBE alone has raised more than $1 billion and had nine exits and two IPOs while working with company founders such as Canva's Mel Perkins, Modibodi's Kristy Chong and LVLY's Hannah Spilva.
High-profile businesswomen who have spent millions ofdollars of their own money attempting to change the investing landscape, such as Carol Schwartz, say investing in the people "who make the investment decisions", such as female fund managers, could be a way to flip the switch.
Two years ago, Schwartz says she made a conscious decision to invest in female investment managers and founders to fund more female-founded businesses and support women making the investment decisions at the top.
Neumann says having funding and support from an experienced investor like Schwartz has been a crucial element to the success of their fund.
"Carol has championed me and other women out there to make sure there are more female capital allocators," she says. "She's really sending the lift down to women like me and empowering us to do that as well."
Be the change
There are a growing number of female-owned and operated VC funds in Australia. It is a close-knit group, and many are associated with, or partially funded, by Carol Schwartz. Marisa Warren, the co-founder of US-Australian female-led VC fund ALIAVIA, is also a beneficiary of Schwartz's investment and mentoring.
Her pathway to VC investment began in an elevator in New York City in 2014 when she heard a familiar voice that stopped her in her tracks. As it turns out, that person was Karen Jacobson –the voice of Apple's Siri.
Warren and Jacobson were both living in the US and attending an American-Australian Association event in NYC. They began talking in the elevator about Sheryl Sandberg's book, Lean In, and the concept of women supporting women, which they both found lacking in their careers. Warren says by the time they both stepped out of the elevator, she knew she would work with Jacobson on something.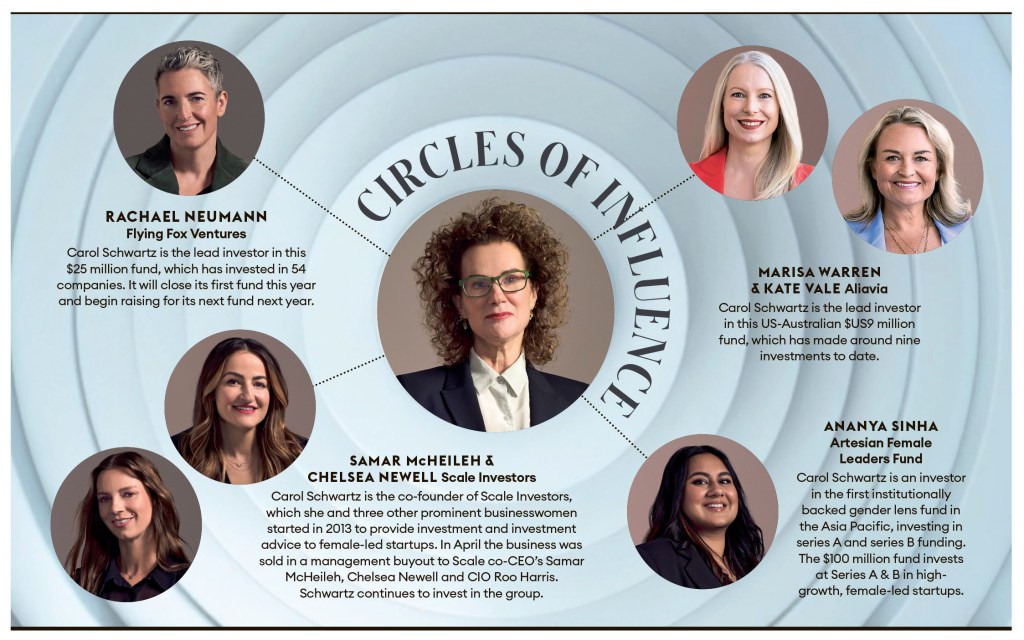 "We get to the ground floor and say: 'We have to do something about this'. We did a YouTube series inspiring women in tech, and that led to doing an event at the Harvard Club – from there, we had people coming up to us saying, 'Marisa and Karen – you're onto something. This concept of women helping other women'."
Warren – who has a background in sales and leadership for companies such as SAP, Microsoft and WorkDay – went on to found pre-accelerator ELEVACAO with Jacobson as an ambassador. The not-for-profit program led to 175 women participants raising more than $120 million and three exits across the US and Australia."
Her experience with ELEVACAO combined with funding for women founders "drying up overnight" during the pandemic, prompted her to consider starting her own VC fund to invest in women-led businesses.
Building bridges
While more women are attempting to bridge the gender gap, starting a VC fund in Australia is not a simple process, according to Warren. Following the success of ELEVACO, she approached her friend and former Managing Director of Google and Spotify in Australia, Kate Vale, in 2021 about this idea of starting a female-owned and operated VC fund for women-led businesses.
"I reached out to my friend Kate, and I said: 'Look, I have an idea' – I think we should start a venture fund backing female tech founders across the US and Australia'. I said, 'I've got all of this deal flow'. We know all the right people, we know how to invest in the deals, and within five minutes, she was like, 'I'm in!' The next thing she said was, '[but] I haven't started a venture fund [before]!'
Establishing a VC fund in Australia is an exhaustive, prohibitive experience, according to Warren. Compliance and regulatory burdens, along with the fact that $10 million in funding must be reached as a minimum, makes it a complex process.
"I have given this feedback to the government, including Ed Husic [Minister for Industry and Science], about the reason why we established a US-based fund [and not an Australian one]. They're putting too much compliance and burden on [funds], and it's making it difficult for females and underrepresented people to start venture funds."
So far, ALIAVIA has made around nine investments in its $US9 million fund. It has 27 investors, including Schwartz, Tattarang (the Forrest Family Office), Dan and Jacqui Phillips (Macquarie Venture Capital), Dom Pym (Up Bank) and Cynthia Scott (Zip Co).
"It's difficult for female founders to raise. I would say it's about 100 times harder for female fund managers to raise – particularly if you don't have that investment track record or that typical VC background," Warren says.
Maria Halasz, who has an extensive background in biotech leadership and investment banking, is the CEO of Stride Equity. The company has a unique structure where it operates a traditional VC fund alongside a crowdfunding platform.
While Stride allocates funding to male and female-founded businesses, 30-40% have at least one female founder. Halasz believes that having more female fund managers is part of the solution.
"Men hand out VC funding. So firstly, there has been a real conscious bias. Still, now they're talking about perpetuating it into an unconscious bias, where they don't even know that they're selecting people of their image to invest in. It's a natural human thing to do," Halasz says. "So, what we need is to have more female [funding] decision-makers, and that's when we will start to see a change."
Getting a head start Female start-up fund, Scale Investors, was sold by its founders – including Schwartz – in a management buyout to Samar McHeileh, Chelsea Newell and Roo Harris in April.
"The secret sauce of Scale has always been its network and ability to get its hands dirty, and [that has] led to some significant great exits," McHeileh says.
The target for Scale's next fund is $10 million, which would lead to a total portfolio of around 60 companies and an investment, in future, in a minimum of 10 companies a year. McHeileh and her team – along with members of the Albert family office – recently brought together a group of 35 early-stage investors as "gender allies." Comprising mainly family offices and investors, the group's purpose is to create transparency around gender and diversity data. Of the group, 13 committed to disclosing detailed metrics on their investment in women-led businesses this financial year to improve equality and transparency in VC funding.
In the interest of transparency
Firms such as Airtree, Blackbird, Scale Investors, Alberts and Giant Leap recently announced they will commit to releasing data on the number of women-led businesses and mixed teams they've screened.
"Transparency is a known tool for equality, and we can't improve what we can't measure. A united industry with clear gender reporting is a great step forward for equality in VC in Australia", Alberts Investment manager Lisa Fedorenko says.
"Over half of Albert Impact Ventures portfolio companies have at least one female founder. We're proud to be reimagining and supporting a more equitable playing field. More diverse founders means more diversity of thought, more diverse problems being solved and are correlated with higher commercial returns," Fedorenko said.
Ananya Sinha, who heads up Artesian's Female Leaders Fund, is also a strong advocate for women-led businesses and their ability to deliver healthy returns. Her fund is the first institutionally backed gender lens fund in the Asia Pacific, investing in series A and series B funding. Sinha has screened more than 450 women-led startups in her time with the fund and personally met with 330 founders and counting.
"Our goal is to create a world where we don't need a fund dedicated to women, or where 'female founder' is a term."

Ananya Sinha, Artesian's Female Leaders Fund
"The thesis for our fund is that talent is equally distributed, but opportunity isn't," Sinha says.
"Businesses founded by women deliver higher revenue—around two times as much per dollar invested — than those founded by men, and you can take Canva, GRAB, Bumble and Maven as examples of women-led businesses that are all in the top quartile of venture-funded outcomes," says Sinha, referencing research by BCG and US accelerator MassChallenge.
Artesian's fund has made two public investments and two that are currently unannounced, including leading investments with GroupTogether ($2 million), Evrima ($3 million) and an unnamed robotics startup ($3 million). It is participating in a $5 million raise for an unnamed climate tech startup.
"Our goal is to create a world where we don't need a fund that is dedicated to women, or where 'female founder' is a term – but for now, unfortunately, we very much feel there's a gap which needs to be addressed," she said.
Making sure history doesn't repeat
For Australian entrepreneur and investor Sarah Hamilton – co-founder of beauty subscription businesses, Bellabox and global beauty brands Sand & Sky and Coco & Eve – investing in women business owners means they don't need to go through the challenges she went through when looking for funding.
Through Bellabox, Hamilton managed two capital raising rounds, which saw her business get around $1.3 million from Square Peg Capital, Apex Capital, Monash Private Capital and a range of angel investors in 2013. In 2014 Allure Media acquired 50% of the company for $3 million.
Now, with some coin in her pocket and several beauty brands under her belt, Hamilton focuses on angel investing in women-led startups.
"I pitched twice with Bellabox [while] pregnant, and that's my discrimination point. Because when you walk in the room, and you've got a big belly, people are like: 'What? I'm going to give you money?' Some potential investors were almost like, 'Okay, how do I make her feel the most uncomfortable ever?' I got through. But it got me thinking, what do I want to support?"
Hamilton underwent the Wade Catalyst program, co-founded by Rachael Neumann, to ensure she knew the fundamentals of angel investing and what to look for in a business. In the past year, she has invested in seven predominately female-founded brands – some of which have men on the board. The smallest investment is a 5% stake, and the largest is 38%, and the companies must address "a gap in the market," she says. Businesses she has since invested in include the haircare brand, Straand, Mermade Hair, Gummi Pets and a supplements brand and a lip care brand to be launched in early 2024. 
"I'm interested in good quality, a gap in the market and the ability to sell globally. I think Australia is a great market, but if you are solely focused here, it will be tough."
A piece of advice she would give women startups is to get comfortable having "difficult conversations sooner rather than later".
"I am a bit of a people pleaser, but we should have just spoken up," she says of her experience with Bellabox. "I think sometimes you get investment on board, and you feel like they've got the power because it's their money. It's not like that. You need to speak up."
Funds committed to disclosing diversity data
LaunchVic's Alice Anderson Fund
Artesian Female Leaders VC Fund
Airtree
Blackbird
Scale Investors
Alberts
Giant Leap
Euphemia
Trawalla
Female-Led Ventures
Tractor
Friday Club
Climate Salad
Birchal
---
Issue Six of Forbes Australia is available now at news agencies. For instant access to all stories become a Forbes Australia Member here,