Forbes' 2023 list highlights 50 leaders, executives, thinkers and teams rethinking the world of work at a time when everything—from the job market's future to AI's impact to a college degree's value—feels more uncertain than ever.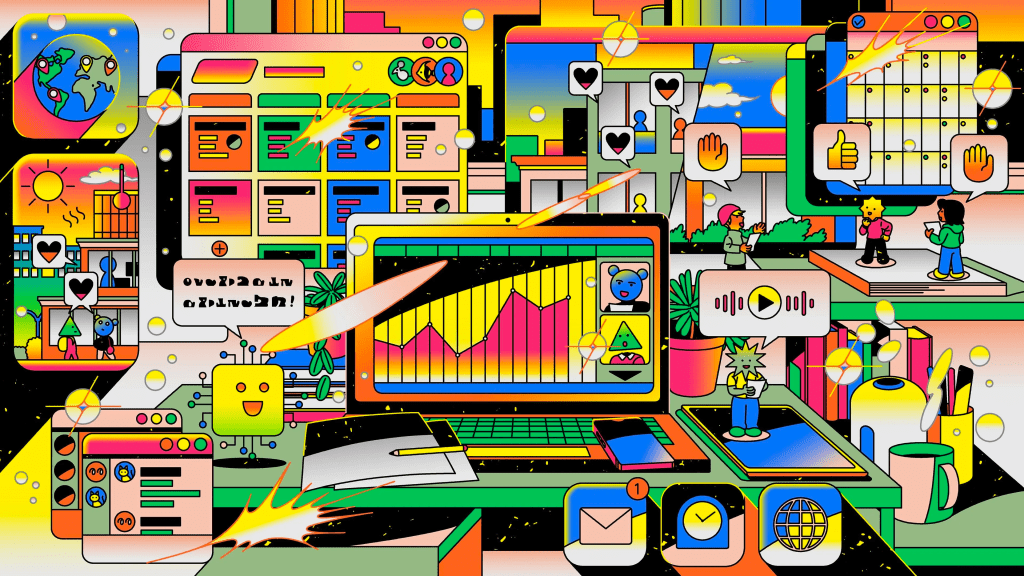 ---
What a difference a year makes.
In a year when ChatGPT exploded onto the scene, a chastened tech industry laid off more than 200,000 workers and the economy seemed to lurch in slow motion toward a possible downturn, the conversation around the "future of work" isn't as rosy as it was a year ago. The "big quit"—remember the "Great Resignation"?—has become the "big stay." Extra days off to unplug were cancelled for a "year of efficiency." Every day brings another warning of all the jobs AI will replace.
Yet amid all that cause for concern, there are bright spots: Generative AI might replace some jobs, but it could make many others easier and less tedious. A stronger labour movement is gaining power and scoring wins—from airlines to autos to Hollywood. More companies are hiring based on workers' actual skills rather than the pedigree of a diploma. And even if many bosses are mandating workers back in the office, the numbers show hybrid work—and the flexibility that comes with it—is here to stay.
We are, at the end of 2023, still very much in the middle of the in-between. The pandemic and the introduction of AI turned the page on what work was—where it happened, and how—but what it will become remains to be seen.
Still, some are helping to point the way. Forbes' second Future of Work 50 list highlights the leaders, companies, thinkers and teams helping shape where work is headed next. From architects rethinking the use of commercial buildings to entrepreneurs helping workers manage extreme heat to former CEOs investing in rural economies, our list is eclectic by design. Some members are top executives of multinational corporations; others are activists fighting for workers' rights while still others are relatively unknown startup leaders with out-of-the-box ideas.
As would be expected in a year like this one, there are plenty of names on the list related to AI. (Indeed, we took a deeper dive into three stories of people leading artificial intelligence tools or efforts at very different companies—a startup using it to power enterprise search, a tech giant deploying it across its products and a professional services firm ploughing money into AI.) Other themes of our list: "Skills-based" hiring, the shift to hybrid work, the rise of an empowered labour movement and new ways of managing people in a changed world. (Former McKinsey thinker Bill Schaninger, meanwhile, has a few thoughts about why managers in the middle matter more than ever.)
To create our list, we queried more than 50 advisors, academics, investors and executives—as well as last year's listmakers and editors at Forbes—asking who they feel is shaping how we think about the future of work or reflecting the issues that will matter most. After getting suggestions from nearly 200 candidates, we narrowed the list to 50, weighing impact, potential, currency and creativity.
Such a list is, by definition, a current snapshot, not a comprehensive catalogue. (Nor is it a ranking; names are listed alphabetically only and cannot be repeated from prior years.) Still, in a year when the future of work feels less certain than ever, it offers a picture of those helping to bring it into view.
—with Diane Brady, Kenrick Cai, Emmy Lucas and Rashi Shrivastava
---
Sam Altman and Mira Murati
Cofounder and Chief Technology Officer | OpenAI
With the launch of ChatGPT last November, OpenAI put the transformative powers of generative artificial intelligence in the hands of workers. With a $10 billion investment from Microsoft just weeks later, Altman and Murati got a powerful boost in bringing their models into the enterprise. While the duo believe in the benefits of AI, they also have been vocal in warning about the risks, urging policymakers to regulate the new technologies. While it's unclear if OpenAI will maintain market dominance over time, there's no question ChatGPT has already changed how many people work, from email and marketing copy to summarizing research and doing homework.
---
Dario Amodei and Daniela Amodei
Cofounders | Anthropic
The Amodei siblings sparked a major schism in 2021 when they led a group of researchers who left OpenAI to start a rival research lab, reportedly due to qualms over commercialization. Two years on, Anthropic has changed course by striking partnerships with Zoom and Boston Consulting Group and selling ChatGPT competitor Claude to enterprises. Amazon invested $4 billion in September, and Google tacked on a $2 billion commitment the following month. As the battle over AI's impact grows, Anthropic hopes to stand out from competitors with a focus on the mitigation of long-term risks of AI harming humanity.
---
Joe Atkinson, Mohamed Kande and Yolanda Seals-Coffield
Vice Chairs; PwC U.S. and Chief People Officer | PwC U.S.
The consulting and accounting giant's U.S. arm said earlier this year it will invest $1 billion over three years in generative AI, including training all of its 75,000 people in the new technology. Led by Atkinson and Kande, with help from Seals-Coffield for its workforce efforts, the firm's pioneering initiative includes partnerships with Microsoft and OpenAI. By the end of the year, it plans to finish rolling out ChatPwC—a tool which makes OpenAI's technology available to employees in a secure environment—as well as an AI-driven talent marketplace to give consultants more transparency into projects matching their skills.
---
Byron Auguste
CEO and Cofounder | Opportunity@Work
Auguste, an economist and former White House staffer, is the leader behind the national "Tear the Paper Ceiling" campaign launched by Opportunity@Work. It aims to get companies thinking more about hiring people who are "skilled through alternative routes," or "STARs"—a term Opportunity@Work also coined. In effect, he's given the corporate world a lingua franca for the skills-based hiring movement that keeps gaining momentum. His campaign garnered commitments from more than 60 companies and nonprofits to adopt new systems and standards for hiring that don't require a college degree.
---
Catherine Bracy
CEO and Cofounder | TechEquity Collaborative
Amid rolling layoffs, Bracy has been a constant voice advocating for the rights of contract and gig workers in the tech industry, who often struggle to gain equal footing. TechEquity Collaborative, which Bracy cofounded in 2017 after stints at Code for America and Obama for America, aims to educate tech employers on equitable practices and advocate for public policies. While legislation she helped develop in California, which would have expanded labor rights of more than 1.9 million contract workers amid layoffs, was recently vetoed, Bracy plans to help shape another layoff protections bill and introduce research initiatives around biases in tech and housing disparities.
---
Richard Branson
CEO and Founder | Virgin Group
Forget the four-day week. Branson has been talking about the possibility of a three-day week for years. With businesses as varied as his marketing stunts—from space travel to balloon flights to banking—it can be easy to forget Branson was early to champion remote work and the idea of hiring formerly incarcerated workers. Long outspoken about his dyslexia, he's recently co-launched a campaign about how dyslexic skills—lateral thinking, complex problem solving—will be in more demand in an age of AI. His company's foundation, Virgin Unite, has helped fund a network of more than 500 companies that swap ideas for a "more human future of work."
---
Jacqui Canney
Chief People Officer | ServiceNow
Since coming to ServiceNow in 2021, Canney has created a "people pact" to codify the company's commitments to employee success and launched a shared learning platform. A former chief people officer of Walmart and WPP, she is also a thought leader in the industry, having co-chaired the World Economic Forum Future of Work Task Force. She's helping to develop the next generation of HR talent well beyond her tech company, one of the few to add jobs over the past year.
---
John Chambers
CEO and Founder | JC2 Ventures
During his 20 years as CEO of Cisco, Chambers laid the foundation for its famous people culture and was a role model for talking about the struggles and strengths in being dyslexic. At JC2 Ventures, his focus on leadership and operations has helped produce a startup portfolio that boasts nine unicorns. He's also a trusted advisor to leaders like Emmanuel Macron of France and India's Narendra Modi. But Chambers' greatest win may be in his home state of West Virginia, where his investments in education and startups are helping to create a hub for entrepreneurship.
---
Prithwiraj (Raj) Choudhury
Associate Professor | Harvard Business School
To make sense of the new world of work, we need more hard data—and fewer opinions. Choudhury's research on the concept of "work from anywhere," which he was studying long before the pandemic, is some of the most widely cited. Hailed by other future of work experts for his "deeply insightful work" and studying remote-based employees outside the usual office worker profile, Choudhury's research finds that being able to choose work locations, as long as people gather occasionally, leads to productivity boosts. His latest work focuses on offsites and how they can build worker connections and become future alternatives to downtown offices.
---
Annie Dean
Global Head, Team Anywhere | Atlassian
When it comes to the work-from-home debate, the cacophony of voices on either side can be deafening. Dean, who held remote work leadership roles at Meta and Deloitte before leading Atlassian's "team anywhere" approach, stands out for bringing facts and focus to the conversation. She advocates for using metrics to decide real estate decisions and shares common sense reminders that back-to-office policies won't change the fact that many teams are already distributed in different locations. Backed by the collaboration software firm's internal data, Dean believes the future of work isn't just about where people work, but how.
---
Fran Drescher
President | SAG-AFTRA
Who knew "The Nanny" could wield such influence over adults? As president of the Screen Actors Guild – American Federation of Television and Radio Artists (SAG-AFTRA), Drescher has led the union during a fractious and costly strike with major movie studios. In the process, the Emmy Award-winning actress has become a formidable labor leader and activist in calling out corporate greed, as well as the need to compensate creators and give them more say over how AI is used. A cancer survivor, she's also traveled the world, advocating for women's health.
---
Andy Dunn
Cofounder | Bonobos
Andy Dunn has become a powerful advocate for mental health since writing about his struggles with bipolar disorder while building the Bonobos clothing brand. Whether experimenting with virtual founder group therapy or talking with HR leaders about the tools that helped him, Dunn is helping to normalize mental illness as a reality that millions of Americans deal with at every stage of their careers. With his condition stabilized through medication and therapy, the former Bonobos CEO has launched a new company and VC firm.
---
Brian Elliott
Executive Advisor and Cofounder | Future Forum
​​Before it was shuttered earlier this year, Elliott led Future Forum, a consortium backed by Slack that published regular surveys on how employees and their bosses felt about remote work—and became some of the most widely cited data during the pandemic. Now working as an advisor with companies ranging from Boston Consulting Group to Atlassian and Teradyne, Elliott still champions a data-driven approach, readily pointing to academic research, government data and employee surveys to back up nuanced, considered views amid a noisy debate.
---
Shawn Fain
President | United Auto Workers
Fain became the face of the fight against the Big Three automakers, thanks to the UAW's unprecedented six-week campaign of coordinated strikes that led to record pay increases for auto workers. The first UAW president to be directly elected by members, Fain has run the 88-year-old union like a politician. From his populist appeals to his guerrilla-style tactics, the union chief could usher in a new era of power for unionized workers well beyond Detroit or discord with companies that point to growing frustration with the status quo.
---
Ryan Gellert
CEO | Patagonia
Founder Yvon Chouinard decided to give the outdoor apparel company away last year, transferring ownership to a trust and nonprofit. But it is Gellert leading Patagonia day-to-day after that change, with a team he's careful to credit. As it turns 50, Patagonia's biggest opportunities and concerns, he has said, are "still the same thing. It's continuing to model what I'd like to believe is a more progressive version of business in a world that desperately needs that." As CEO, Gellert has started an end-of-year closure to give workers a break, called out corporate double-speak on climate change and collaborated with NGOs to protect Europe's Vjosa River.
---
Rooz Ghaffari
CEO and Cofounder | Epicore Biosystems
While far from the only company developing wearable technology or clothing to help workers in extreme heat conditions, Epicore has lined up some big partners. By applying a sweat-sensing patch that's also used for fitness to labor-intensive outdoor fields like oil rig or utility line workers—Epicore calls them "industrial athletes"—Ghaffari created a flexible, wearable tool that continuously measures sweat fluid and electrolyte loss, leveraging data to predict dehydration levels. Though small, with only about $10 million in seed and Series A funding, Ghaffari says this summer's extreme heat sparked huge interest; partners include oil giant Chevron, Japanese chemical company Denka—and the U.S. Army.
---
Claudia Goldin
Professor | Harvard University
Goldin is only the third woman to win the Nobel Prize for economics. The Harvard professor received that top recognition in October for her research on the gender wage gap and the "motherhood penalty" that dampens the pay of working women after they have children. As the Nobel committee noted, Goldin's analysis of over 200 years of data "uncovered key drivers of gender differences" in the labor market. At 77, she's still having an impact, with recent research describing the "fatherhood premium" that men receive, especially among college graduates.
---
Reid Hoffman
Investor | Greylock Partners
A prolific author, podcaster and speaker on issues surrounding the future of work, the venture capitalist and cofounder of LinkedIn offers a voice of enthusiastic gravitas to the debate about AI while investing in its future. Silicon Valley's best-connected billionaire and investor, known for his early bets in companies like Facebook and Airbnb, has cofounded the chatbot startup Inflection AI with former Google DeepMind cofounder Mustafa Suleyman. He also remains a lifelong advocate for the power of networks and marketplaces in shaping how we live and work.
---
Jensen Huang
CEO and Cofounder | Nvidia
Nvidia's market capitalization surpassed $1 trillion for the first time in May as it powers the AI wave. The company created a new kind of chip for the gaming industry—the graphics processing unit. It then spotted the AI trend early, tailoring chips to AI's needs, building software, AI teams and whole computing systems to make it an essential partner for developers. Research firm TrendForce predicts Nvidia makes up 60 to 70% of the global AI chip market. Meanwhile, as other tech giants require office returns, Nvidia doesn't have a mandate, addressing burnout with perks such as quarterly "free days," when the whole company takes off.
---
Chris Hyams
CEO | Indeed
As CEO of Indeed, Hyams had to cut jobs within his own workforce by 15% earlier this year as the labor market cools. Yet the one-time teacher and musician (LinkedIn profile: "Tried to become a rock star. Failed."), who oversees one of the world's largest job sites, is trying to make Indeed's scale a force for change, aiming to shorten the time it takes job seekers to get hired by half by 2030. He's also urging pay transparency by requiring employers to include pay ranges on job postings where a law mandates it. Where one doesn't, Indeed estimates ranges based on its vast data.
---
Arvind Jain
CEO and Cofounder | Glean
Jain's career highlights include upgrading Google Search to load results faster than a human blinks an eye and cofounding fast-growing data security company Rubrik. His latest startup, Glean, has a $1 billion valuation and is building a product Google never pulled off: Enterprise search. Glean works like a private search engine that lets employees search their company's internal documents and proprietary data culled from apps like Slack and Workday. Customers include more than 200 enterprise companies such as Databricks, Niantic and T-Mobile.
---
Francine Katsoudas
Chief People, Policy & Purpose Officer | Cisco
As chief people, policy and purpose officer at Cisco, Katsoudas plays a pivotal role in nurturing a culture that has repeatedly given the tech giant top marks as a place to work–even in years like this one that follow a workforce restructuring. Cisco has had major office redesigns in New York, Chicago and Atlanta, transforming those spaces into "collaboration centers" to attract workers, as well as sleek showrooms to tout hybrid-work products. The company has experimented with a four-day work week, and was an early provider of out-of-the-box family benefits like three days of "grandparent leave" amid an aging workforce.
---
Jenny Lay-Flurrie
Chief Accessibility Officer | Microsoft
Lay-Flurrie, who is profoundly deaf, leads Microsoft's push to increase accessibility and disability inclusion through its products, practices and policies. She is also an outspoken advocate for closing the disability gap, which helps keep the unemployment rate for people with disabilities at around double the rate as those without. The team that leads Microsoft's inclusive hiring efforts, which created a career platform for neurodiverse workers and shares best practices with 50 other employers wanting to start similar hiring programs, reports into Lay-Flurrie.
---
Roger Lee
Founder | Layoffs.fyi and Cofounder | Comprehensive
If you've read about the layoffs plaguing tech, you've probably seen data from Layoffs.fyi. Lee, who launched the site in 2020 to track job cuts, says he now gets over 1 million monthly views. Along with company data, the tracker often includes crowdsourced lists of laid off employees who opt in to being included, which Lee hopes offers visibility for new work. Amid more pay transparency laws, Lee also started software platform Comprehensive to help employers track salaries across more than 5,000 companies, design compensation packages that meet industry norms and eliminate inequities, and, earlier this year, called out companies who were not in compliance.
---
Fei-Fei Li
Professor | Stanford University
Li wants to make sure everyone has a seat at the table in the development and launch of AI. In conversations with President Biden, the technologist has called for more government involvement and investment in regulating AI technology and providing computational resources for its use in areas like healthcare and climate that benefit the public. Often called the "godmother of AI," Li, whose new memoir recounts her journey as a scientist, has worked on cutting-edge AI research such as image recognition and image labeling as a professor at Stanford's computer science department for the past 14 years.
---
James Manyika
Senior Vice President, Research, Technology & Society | Google
As Google's chief of research, technology, and society, Manyika is charged with helping to make sure the company's most ambitious innovations are developed and distributed in a way that achieves the greatest good. While the Zimbabwe-born academic, scientist and consultant wields influence worldwide, he is best known in Silicon Valley as an expert at the intersection of technology and society. As chairman and director of the McKinsey Global Institute, Manyika helped shape the debate around how work will be organized and the societal impact of income inequality and automation.
---
Dustin Moskovitz
CEO and Cofounder | Asana
Moskowitz could have taken what he made from cofounding Facebook—Forbes estimates his net worth at $12.9 billion, last we checked—and retired to a life of leisure. Instead, he has spent the past 15 years working on Asana's enterprise collaboration software. Along with introducing new AI features, the company has launched an inhouse think tank called "Work Innovation Lab" and he's bought beaten-down shares of Asana, boosting his stake. The self-described introvert talks about the need to manage energy and treat work as a marathon, not a sprint. He has also pledged to donate most of his fortune to charity.
---
Shantanu Narayen
CEO and Chairman | Adobe
One of the longest serving CEOs in the tech industry, Narayen's company has gone all in on AI, integrating its model Firefly across its tools, from Photoshop to Illustrator to Adobe Express. For consumers, it offers a standalone Firefly web application to explore AI-assisted creative work. And as enterprise customers worry about navigating copyright and commercial issues that could crop up with images and AI; Adobe offers them IP indemnification. The company has bucked the trend in tech by not doing mass, company-wide layoffs in 2023, and opened a widely hailed new office building, Founders Tower, designed for hybrid work with more than 400 spaces that include "team neighborhoods" and "drop-in desks."
---
Kaz Nejatian and Tia Silas
Chief Operating Officer and Chief Human Resources Officer | Shopify
Nejatian and his team eliminated all recurring meetings from the global commerce company's calendar to kick off 2023—part of a broader effort he called "refactoring Shopify" and sparking a viral conversation about meeting overload. Then this summer, the Canadian-founded company embedded a calculator in workers' calendar apps to show the cost of time spent in meetings; for the first three quarters of 2023, that time is down 15%. Silas has helped with those meeting efforts, as well as with executing a "flex comp" program that lets employees choose how much pay is allocated to equity versus cash and rethinking career paths and rewards for those who don't become managers.
---
Andrew Ng
Founder | DeepLearning.AI and Chairman and Cofounder | Coursera
For more than a decade, and in different capacities, Ng has been pushing the boundaries of what artificial intelligence can do. As the cofounder of Google Brain, he led efforts to advance deep learning technology by feeding networks more data and using more compute power. At Chinese tech behemoth Baidu, he developed machine learning-based apps like maps and image search now found on millions of devices. Ng has taught 8 million people the ins and outs of AI as a cofounder of edtech ventures Coursera and DeepLearning.AI; he is also chairman of AI skills development firm Workera, founded by Under 30 alum Kian Katanforoosh.
---
Alexis Ohanian
Cofounder | Reddit and Founder | 776
The cofounder of Reddit quit his board after George Floyd's death in 2020 to make space for a Black director. As a venture capitalist, philanthropist and entrepreneur, Ohanian has championed wider access to capital, the internet and other tools of success. Investments include group-coaching platform The Grand World and a range of AI companies that could have an impact on the future of work. The high-profile father, who married tennis star Serena Williams, also advocates for men to spend more time with their kids. (His full LinkedIn "about" section? "I'm a Business Dad.")
---
Steven Paynter
Principal | Gensler
What can be done about the glut of tired office buildings no one wants anymore? Gensler's Paynter has an answer. As leader of the office design giant's building transformation and adaptive reuse practice, Paynter created an algorithm that helps developers and landlords decide which offices can profitably be converted into residential space, cutting the time it takes to make such decisions from four or six months to hours. When it comes to commercial office buildings, Paynter, who's participated in White House roundtables on real estate, says his job is "how do I identify the losers and figure out what to do with them?"
---
Gabriel Pereyra and Winston Weinberg
Cofounders | Harvey
Pereyra cut his teeth conducting AI research at Google's DeepMind and Meta before starting Harvey, where he is CEO, last year with Weinberg, a former antitrust lawyer who serves as president. Harvey injects the legal expertise of a squad of lawyers into its large language models, making a range of complicated legal, compliance and financial issues accessible nearly instantly. Though tiny, with $26 million in funding, Harvey already has several big law and accounting clients, including Allen & Overy, Macfarlanes and PwC. Harvey's first lead investor was OpenAI; its tool is powered by GPT-4, giving them a powerful backer in a mercurial ecosystem of nascent startups.
---
Melanie Perkins
CEO and Cofounder | Canva
The CEO and visionary behind the Sydney-based design platform (husband and cofounder Cliff Obrecht is COO) Perkins has made Canva an increasingly popular brand for enterprise customers through its AI-powered Magic Studio. The 10-year-old company has almost doubled its user base in the past 12 months by making it easier to put design in the hands of employees while letting employers protect key elements of their brand. Perkins also gets high scores for Canva's employee-centric culture, from "no meeting" Wednesdays to teams organized by time zone to maximize collaboration.
---
Gina Raimondo
U.S. Secretary of Commerce
Raimondo, a Rhodes Scholar and venture capitalist who was Rhode Island's first female governor, has positioned the Commerce Dept. to be more focused on jobs and workers than her predecessors, workforce experts say. Under Raimondo's leadership, the Commerce Department is charged with distributing vast sums of money that could have broad workforce impacts. That includes nearly $100 billion to build up the U.S. chip industry—which has the unusual requirement for manufacturers to provide child care, helping more women join the workforce—and a $42 billion initiative to expand broadband Internet access, which she calls a "basic human right."
---
Carole Robin
Cofounder | Leaders in Tech
Robin was an instructor of Stanford's famous "Interpersonal Dynamics" course—also known as the "touchy feely" class, Robin says—and has since cofounded Leaders in Tech, a venture-backed coaching startup that could help address the toxic leadership that's long plagued Silicon Valley. "Every tech founder is desperate for an invite," says one CEO, noting Robin is "quietly in the ear" of many founders, investors and influencers. (This year's cohort had 1400 nominations for 72 spots.) Those who get in—participation is invite-only and runs nearly $20,000 for the year fellowship—are held accountable in group retreats and coaching sessions. Alums include CEOs of Lattice, Figma and Outschool.
---
Ryan Roslansky
CEO | LinkedIn
Microsoft-owned LinkedIn, historically the boring professional sibling of platforms like TikTok or Twitter—um, X—became a massive force during the pandemic as isolated-at-home workers tried to stay connected, open up about personal issues and build their brands as creators and influencers. Roslansky, who became CEO in June 2020, oversaw the transition, including eight straight quarters of membership growth (LinkedIn recently hit one billion members), the launch of AI tools and a skills-matching feature that bets on skills for the job market's future. Amid a cooling labor market, LinkedIn has had two rounds of layoffs this year, saying recently it's "continuing to invest in strategic priorities for our future."
---
Rob Sadow
CEO and Cofounder | Scoop
Sadow cofounded Scoop with his brother, Jon, creating an app that helps workplaces coordinate who's in the office—and when. But he's become most known for a comprehensive data set Scoop collects and analyzes about remote work policies, known as the "Flex Index." It not only helps job seekers explore potential employers' rules but spots trends—such as that hybrid-work companies are hiring faster than those back in the office full-time. The data set is one of the few that tracks company policies—rather than workers' habits—offering executives and researchers a snapshot of where the red-hot and seemingly never-ending WFH debate is really going.
---
Reshma Saujani
Founder | Girls Who Code and Moms First
Saujani has spent more than a decade advocating for workplace policies that support mothers, women and girls. Her nonprofit, Girls Who Code, has given 580,000 girls computer programming lessons. Now, her advocacy group Moms First, formerly known as Marshall Plan for Moms, is pushing to create a culture, workplace and policies that enable mothers to be more fully engaged in the world of work. That has become especially important since federal funding for childcare that covered more than 3 million children expired on Sept. 30, creating what Saujani and others describe as a "childcare cliff."
---
Josh Shapiro
Governor | Pennsylvania
Shapiro wasn't the first state governor to eliminate college degrees as a requirement for most state jobs—that was former Maryland Governor Larry Hogan, who did so last year. But Shapiro is notable, say workforce experts, for making it a signature initiative—campaigning on the issue and signing an executive order his first day in office in January. The order removed degree requirements from roughly 92% of state positions—an estimated 65,000 jobs —and launched a review of whether it's needed for the remaining 8%. Since his move, at least 12 more states have followed in what's becoming a rare issue both Republicans and Democrats agree on.
---
Clara Shih
CEO | Salesforce AI
Researching clients. Searching through troves of documents. Writing follow-up emails. "These are very onerous, frustrating tasks," says Clara Shih, CEO of Salesforce AI. In her second stint at the cloud software giant, which she rejoined after founding software platform Hearsay Systems, Shih is strategizing how such mundane work can be automated with generative AI. By spearheading Salesforce's efforts to safely embed AI capabilities in its flagship tools, Shih is playing a key role in redefining work for sales, marketing and customer service reps at one of the tech industry's heavyweight players.
---
Kieran Snyder
CEO and Cofounder | Textio
An influential voice on the impact of language and bias at work, Snyder cofounded Textio to help companies write less biased job descriptions and recruiting content. Its latest tool, Textio Lift, uses AI to help managers reduce bias in performance reviews, identifying words or phrases that may be exaggerated or too focused on personality, and adds in tech to make sure genAI output is bias-free. Snyder, who has a Ph.D. in linguistics and cognitive science, cofounded Textio with Microsoft alum Jensen Harris, who previously worked on language products at Microsoft and Amazon.
---
Anthony Stephan
Chief Learning Officer | Deloitte
Many companies pull back on training amid economic uncertainty. Yet last December, Deloitte pledged a huge $1.4 billion investment in professional development, naming the initiative "Project 120." Stephan, Deloitte's chief learning officer, is executive leader for the initiative, which will expand its facilities for Deloitte University, launch new academic and business collaborations and boost training on technologies like artificial intelligence, cyber and quantum computing. In October, the company, which did announce 1,200 job cuts this year amid a slowdown in consulting, also launched an internal AI chatbot to help its audit and assurance employees research complex accounting questions and act as a virtual assistant.
---
Lorraine Stomski
SVP, Associate Learning & Leadership | Walmart
In September, Walmart announced it will no longer require college degrees for many of its corporate jobs. While not the first to do so, it's a decision where the retailer's vast scale could influence other companies to follow. Stomski is considered the driver of such "skills-based" initiatives across Walmart's vast enterprise, which also include letting employees earn credit hours for on-the-job experience, expanding the number of certificates offered to workers and developing tech tools to help them personalize career paths. More than 100,000 employees, the company said in May, have participated in Walmart's free education program, Live Better U, which Stomski oversees.
---
Jeremy Stoppelman
CEO and Cofounder | Yelp
Having once referred to hybrid work as "the worst of both worlds" and "the hell of half measures" in an interview with the Washington Post, Stoppelman isn't changing his commitment to remote work. He's closed all but one of the review platform's U.S. locations and been transparent about results, releasing data in February that links its policies to a 23% reduction in hiring time between 2019 and 2022. Stoppelman has also been outspoken in pledging to cover travel costs when workers must travel out of state to obtain an abortion or other care, saying it's "disappointing" other business leaders have stayed quiet.
---
Lisa Su
CEO | AMD
Su's technological chops and management savvy helped orchestrate a case-study worthy turnaround at chipmaker AMD. Now, she's now gunning for more of the AI market, currently controlled by Nvidia's near-monopoly and its trillion-dollar market cap. With a new MI300 data center chip for AI and high-performance computing, AMD will inject more competition into the booming market for chips needed to power the AI revolution. The MIT Ph.D., one of Forbes' Richest Self-Made Women, has established a fellowship for women in nanotechnology at her alma mater and told Forbes earlier this year one of her passions is keeping more young women in engineering.
---
Taylor Swift
Global Superstar
Perhaps no artist has confronted the machinery—and misogyny—of the music industry more than Swift, winning more power, creative control and intellectual property rights along the way. By her example, Taylor Swift has made it possible for other creators to push back on unfair deals and demand agency over their brands. With her Eras Tour poised to be the highest-grossing tour of all time, and a follow-up film that's shattering box-office records, the newly-minted billionaire has also won fans for boosting local economies. Taylor has won kudos as a boss, too, reportedly giving six-figure bonuses to tour staffers.
---
Everette Taylor
CEO | Kickstarter
Since becoming CEO of Kickstarter a year ago—which was the first U.S. tech company to have a wall-to-wall union—the influential marketer has elevated the relevance and reach of the crowdfunding platform while increasing diversity in the top ranks. Taylor kept in place the practice of a four-day week led by his chief strategy officer, Jon Leland, and his empathy and willingness to talk about his own challenges, from selling drugs as a teen to being homeless as he struggled to make it, has also made him a powerful role model. Everyone, he says, should be more than their work.
---
Tom Wilson
CEO and Chairman | Allstate
Allstate stands out among financial services firms and a peer group of old-line businesses led by CEOs making full-throated demands for a return to the office. The property and casualty insurance giant sold its suburban headquarters last year, which it had called home for more than five decades—with Wilson even telling the Aspen Ideas Festival the company no longer considers it has a headquarters. It now takes a regional approach, calling smaller, more modernized offices "hubs" and letting teams set the attendance frequency that works for them.
---
Lareina Yee
Senior Partner | McKinsey & Co.
As McKinsey's first chief diversity, equity and inclusion officer, Yee pushed for greater representation in the senior ranks. She also cofounded its landmark research with LeanIn.Org on Women in the Workplace, the largest annual study of women in corporate America. The San Francisco-based senior partner is now chair of McKinsey's Technology Council and helps companies create a road map to leverage generative AI and emerging technologies. She's also been an influential voice in talking about the need to use AI in ways that are productive and safe.
This article was first published on forbes.com and all figures are in USD.
More from Forbes Australia